Royal Caribbean have unveiled their brand-new Icon of the Seas cruise ship and this highly anticipated ship is 100% going to live up to the hype! Icon of the Seas is a first in class ship and it is bringing with it, a huge array of firsts at sea. Launching in 2024, Icon of the Seas will feature a new design, new neighbourhoods, new attractions and so much more. At its maximum capacity, it will hold 7,600 guests.
The ship is being flagged as Royal Caribbean's most innovative ship to date and in this blog post, we are taking you through everything you need to know about the brand-new Icon of the Seas.
Enjoy Endless Pool Experiences
Experience a new pool every day of your cruise on Icon of the Seas which will be home to seven different pools as well as nine whirlpools.
Surfside Water's Edge is a family friendly pool located in the new Surfside Neighbourhood and right next to Splashaway Bay.
Hideaway Pool is the first suspended infinity pool at sea and gives you the chance to float as you swim, eight stories up!
Royal Bay is the largest pool not only on-board Icon of the Seas, but the largest pool at sea and accompanying its 40,000 gallons of water is plenty of in-water loungers, and surrounding loungers to chill in the glorious sunshine.
Cove Pool is an oceanfront infinity pool and is the more low-key pool on board.
Cloud 17 is the brand-new adults only pool and pool deck that is tucked away on the top deck of the ship. Its chic, stylish and has private access to The Lime & Coconut Bar.
Swim & Tonic is the brand-new swim up bar on board and the largest one at sea.
Lastly, The Grove Suite Sun Deck Pool is the private, dedicated suite class guest pool and area located in the Suite Neighbourhood on board.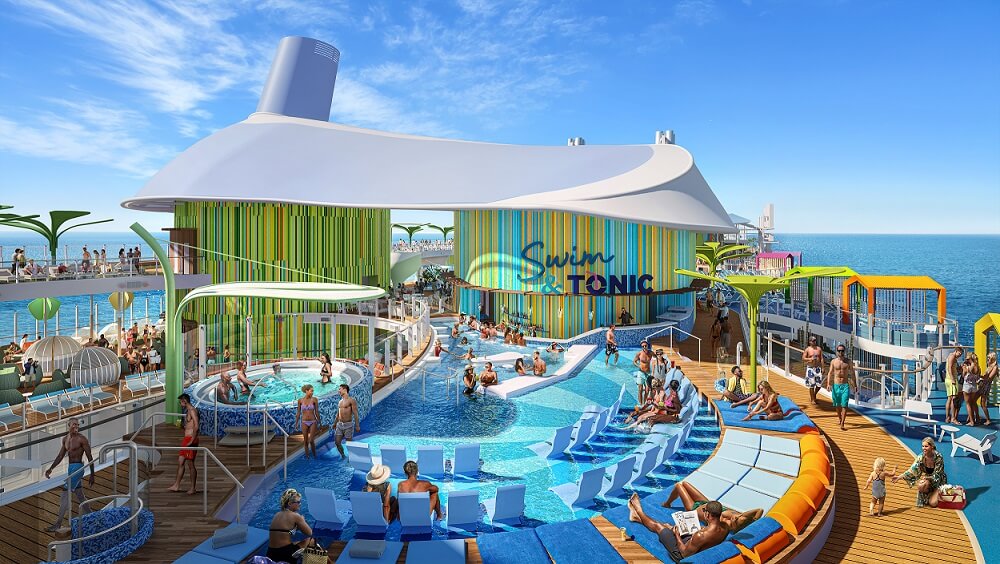 Be Wowed at the Aqua Dome
The Aqua Dome is a brand-new venue concept that will be located at the very front of the ship. This incredible dome shaped space will be home to world-class performers and shows which will blow you away with their daring stunts. It will also feature a five story waterfall that will move in sync during performances to divers and aerialists. Think Oasis Class Aqua Theatre, but on the next level! The Aqua Dome will also offer new dining options on board as well as endless opportunities to relax with a drink in hand as you take in spectacular views, every day of your cruise.
Enjoy Endless Fun at Thrill Island
Thrill Island is fun personified. Located at the back of the ship on the upper decks, Thrill Island will be home to all thing's fun including a rock climbing wall, mini golf, a FlowRider, a basketball court and so much more. In this area of the ship, you will also find the brand new Category 6 Waterpark.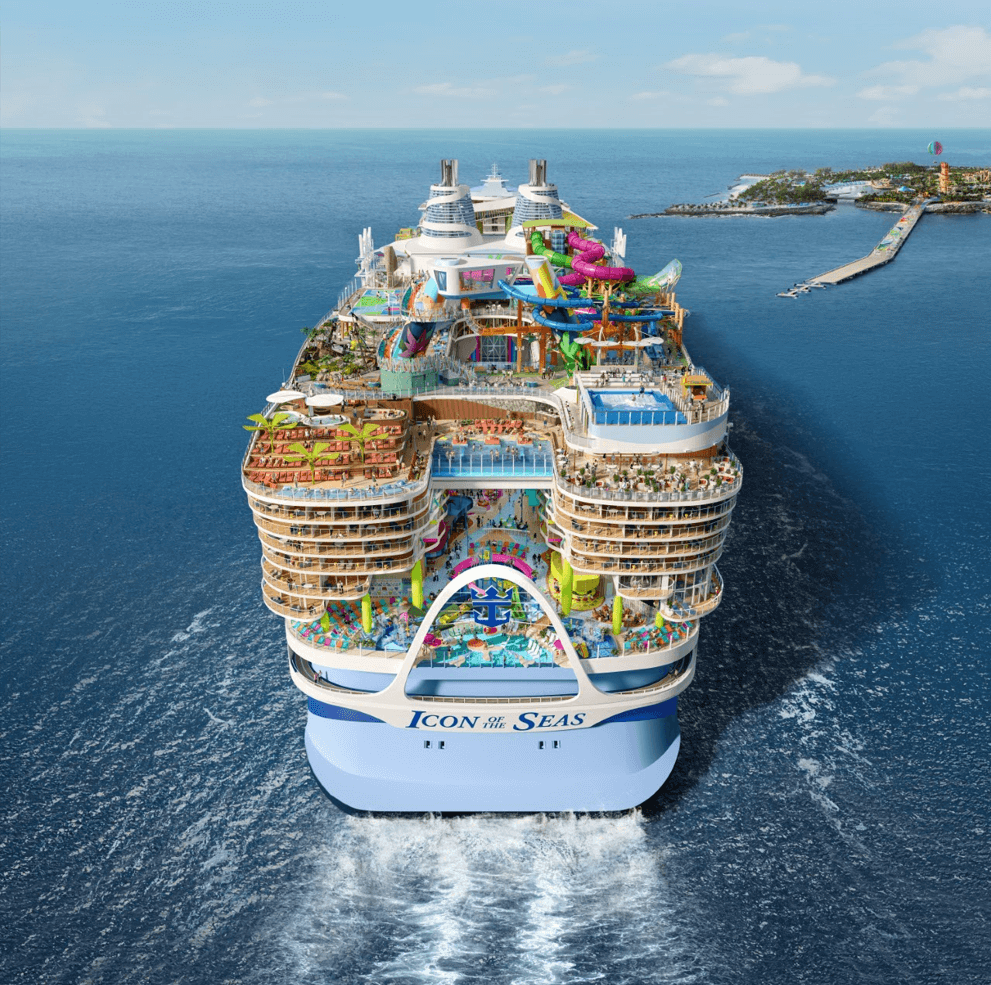 Test your limits at Category 6 Waterpark
Are you ready to make a splash at the largest water park at sea!? Category 6 Waterpark is taking cruise ship water parks to the next level. This exciting new attraction is perfect for those adrenaline seeking cruisers. With six record breaking slides you will have plenty of opportunities to race, ride and have the thrills of your life!
Frightening Bolt will be the tallest drop slide at sea.
Storm Chasers will be the first duo mat racing slides at sea.
Hurricane Hunter will be the first family raft slide at sea.
Storm Surge will be the first suspended family raft slide at sea.
Lastly, Pressure Drop will be the first open freefall slide at sea.
See how brave you really are on Crown's Edge
While we're taking thrills, we must mention the brand new Crown's Edge. Located 154 feet above the ocean, Crown's Edge is a fear facing experience for those who dare to try it. Dangling high above the sea, Crown's Edge is part skywalk, part rope course, part thrill ride and not for the faint of heart! It is the ultimate chance to test your courage during your cruise holiday and rumour has it, there is a surprise moment in the experience that will truly set your pulse racing!
Enjoy Beach Club Vibes at The Hideaway
The Hideaway is a brand new, tucked away neighbourhood that sits 135 feet above the ocean. This beach club vibes area of the ship offers exceptional sea views as well as a multilevel sun terrace that features whirlpools, a dedicated bar and a variety of seating options. The key standout feature of this new space however, is the first ever suspended infinity pool at sea. Sounds fabulous!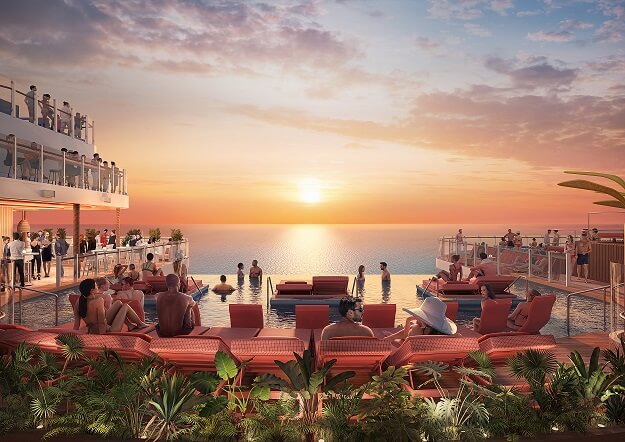 Make Lifelong Family Memories at Surfside
Surfside is a brand-new neighbourhood designed for young families with little ones aged six and under. Surfside is located where the Boardwalk on Oasis Class ships is located and it is packed full of fun. Splashaway Bay provides lots of playful fun and the new Baby Bay gives your littlest family members the chance to also make a splash and cool down in the sunshine on their holiday. The area also features the Water's Edge Pool which gives mammies and daddies a chance to relax as the kiddies play.
Of course, there is plenty of dry fun also in Surfside including excellent dining options, a bar, the signature carousel which features on Oasis Class ships and an arcade. Royal Caribbean's Adventure Ocean kids club, which usually is located on the higher decks of their ships, will now be located at Surfside, as well as Social020 for teens. This amalgamation of kids areas into one space of the ship will really make life easier for parents on board.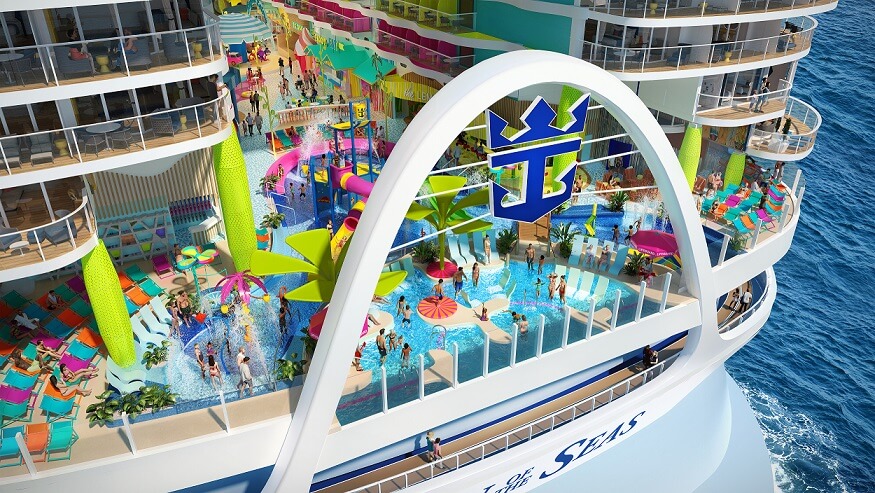 Larger Staterooms and Choice
Icon of the Seas aims to make cruising easier for families, especially families of five and larger. The ship will be home to a huge array of stateroom and suite options which are all designed with families in mind. From three stories suites to infinite balcony staterooms and extra spacious interior staterooms, Icon of the Seas will cater to everyone, no matter your needs.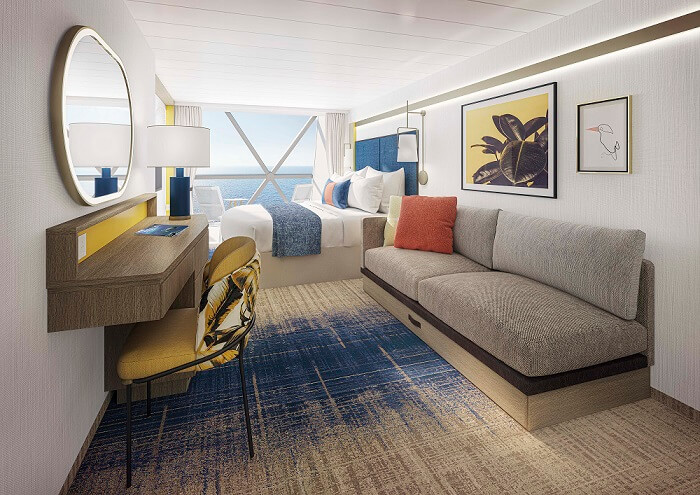 Returning Favourites
Icon of the Seas will also feature a lot of Royal Caribbean favourites on board including the beautiful Central Park neighbourhood, and the Royal Promenade which will have floor to ceiling ocean views for the first time ever. Some family favourite activities will also be on board including the FlowRider Surf Simulator and a rock-climbing wall.
Where is Icon of the Seas sailing?
Icon of the Seas will be sailing to the Caribbean from Miami and offering a selection of itineraries across both the Eastern and Western Caribbean from January 2024. The sailings are on sale now. For more information on Icon of the Seas, you can reach our experienced Cruise Experts seven days a week on 01-6995329. For more information on Royal Caribbean cruises, visit our dedicated Royal Caribbean page here.