Madeira, one of the most breath-taking islands in the Atlantic is a year-round destination that offers so much to enjoy. More than just a destination, Madeira is home to six centuries of history, some of the most impressive scenery in the world, stunning hikes, amazing food and so much more. In truth, there is more to this archipelago island than just its gardens and toboggans. If you are thinking of where to go on your next holiday, keep on reading as we take you through the ultimate guide to Madeira.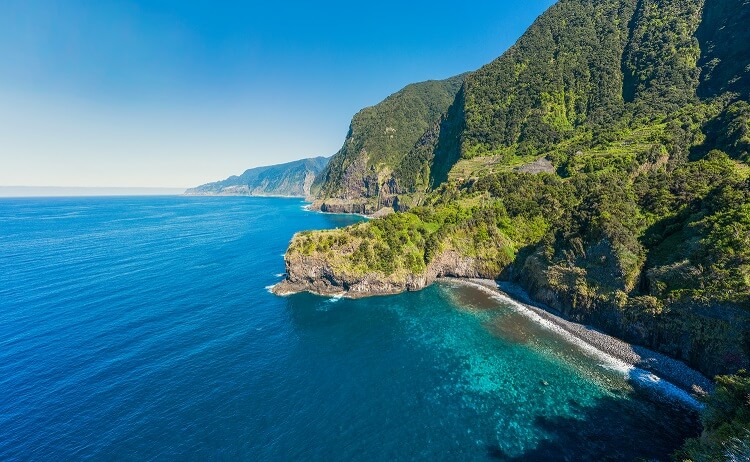 Top Things to do in Madeira
Laurissilva Forest
The Laurissilva Forest is a UNESCO World Heritage Site and also approximately 20 million years old! This stunning natural treasure is a rare subtropical forest which occupies approximately 20% of the island. If you dream of exploring lush, green forest and simply diving straight into a magical piece of nature, we highly recommend you take some time to explore this impressive forest on your holiday.
Embrace the Water
Madeira is home to one of the most dramatic, breath-taking coastlines in the world and the best way to truly take in its beauty, is by embracing the surrounding Atlantic Ocean. From kayaking and swimming to whale watching, dolphin watching and boat tours, enjoying the Madeira coastline from the water is a must on your trip. Surfing, paddle boarding, windsurfing and snorkelling are also really popular on the island. The sea is part of Madeira's DNA and whether you choose to dive right in or sail away, it is important to experience this piece of Madeira while visiting on holiday.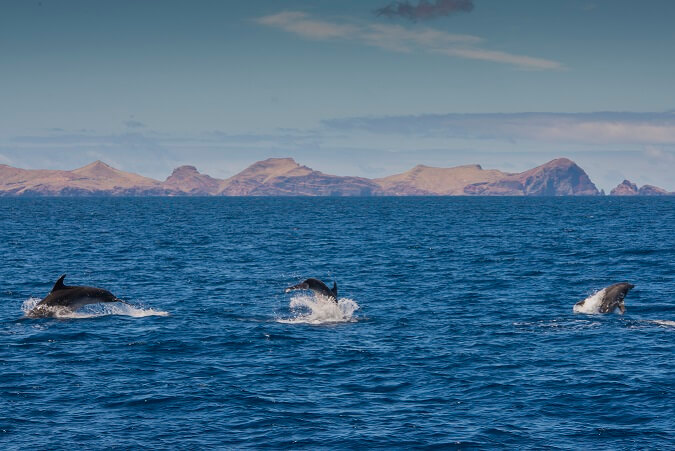 Visit the Island's Viewpoints
An island this beautiful needs to be enjoyed every day of your holiday and when it comes to viewpoints that wow, Madeira has ticked every box. On the North Coast, visit Balcões Viewpoint, the Ribeira da Janela viewpoint and the Rocha do Navio viewpoint, all of which combine beauty with mysticism. While on the South Coast, take in stunning crystal-clear blue waters, incredible coastal views and more at Cabo Girão viewpoint, the Eira do Serrado Viewpoint and the Boca dos Namorados Viewpoint.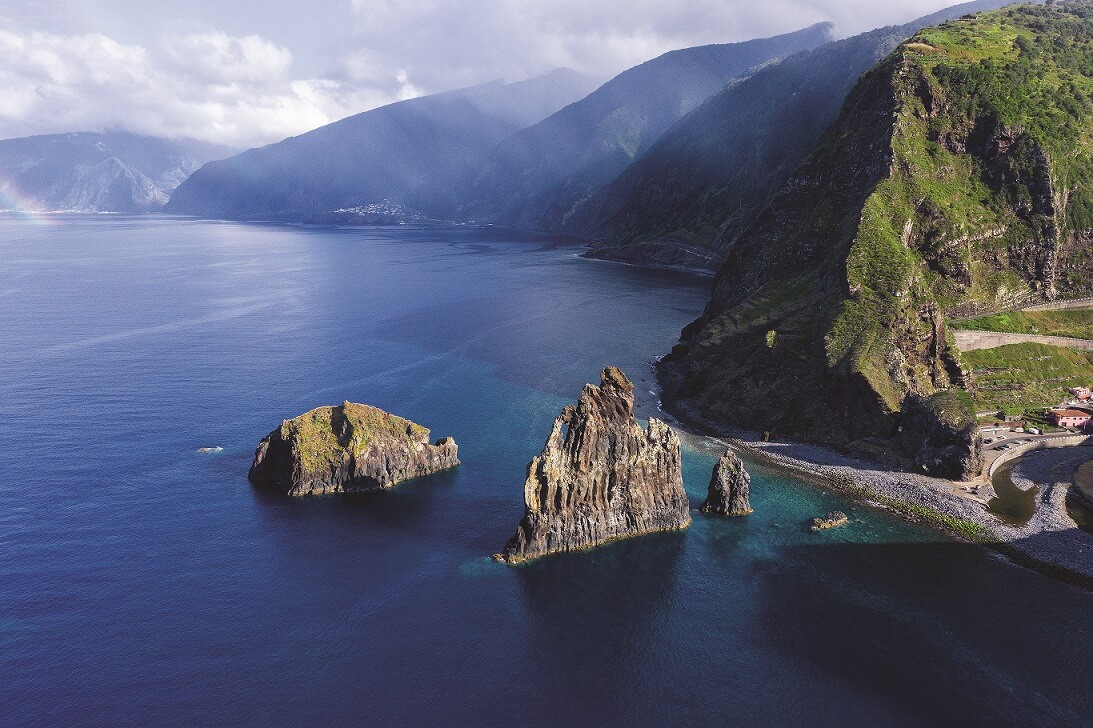 Enjoy a Beach Day
Madeira is home to both pebble beaches and sandy beaches and if you can, we recommend enjoying both types on your holiday. Madeira's pebble beaches are predominant throughout the island and resting next to crystal clear waters, they enhance the already stunning landscape. You will find pebble beaches on all coastlines throughout the island. Or, if you prefer to enjoy golden, black sand or coppery sand, Madeira has options for you as well.
And, if you visit Seixal, Porto Moniz or the coast in Funchal, be sure to check out the stunning natural pools which are of volcanic origin.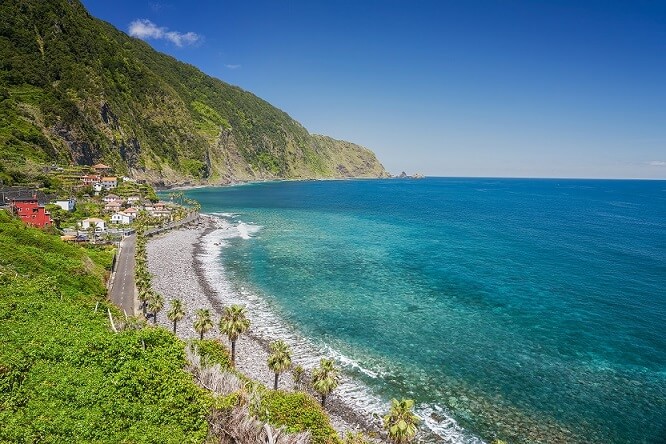 Hiking
Madeira is one of the best hiking destinations in the world. This archipelago is home to endless mountains, forests, waterfalls, and viewpoints giving hikers an invigorating choice of how to get to know Madeira. There are hiking trails throughout the island with routes to suit all levels of experience.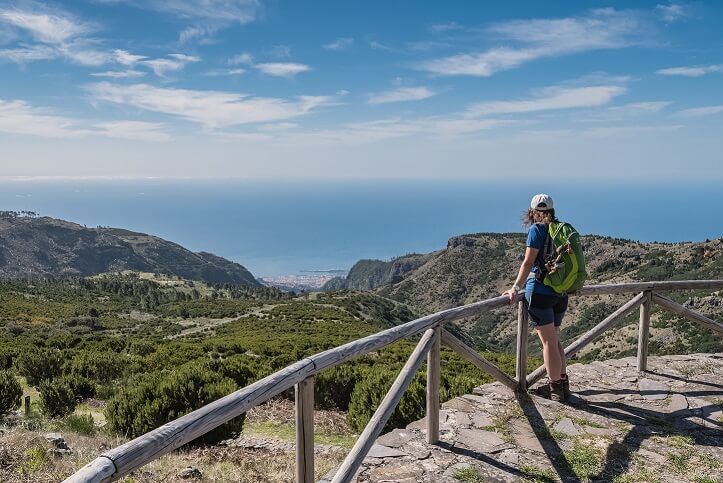 Levadas
While we are on the topic of hiking, hiking along one of the island's many Levadas is a must. Madeira is home to a network of Levadas which are a series of irrigation channels which were used to transport water that are now used as hiking trails. These meandering water channels will take you through the island's lush, tropical landscape and give you the feeling that you have stepped straight into a dream.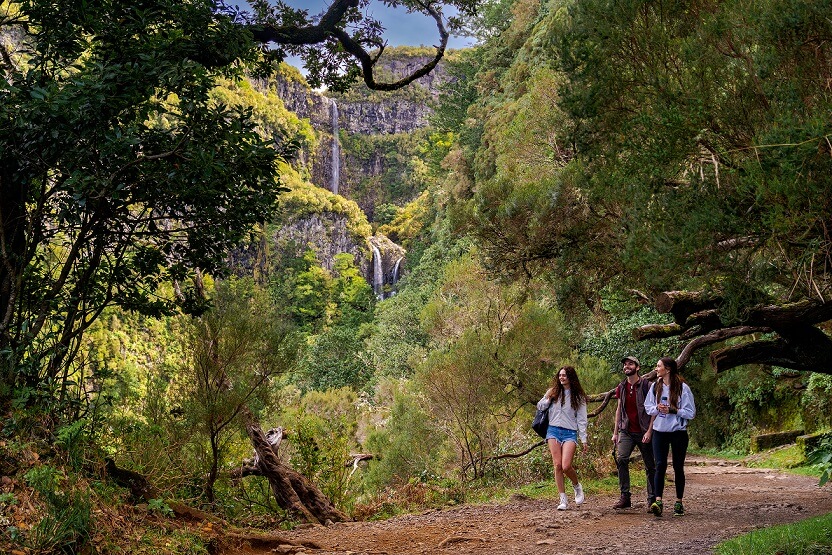 Embrace the History of Madeira
If history is your thing, you are in for a treat on your holiday to Madeira as the island has over six centuries of history for you to immerse yourself in. From religious experiences to centuries old traditions and its built history, the island has a past worth exploring. Discover monuments of architectural and historical significance, Madeiran craft works and its popular folklore dances. Embracing Madeira's culture is embracing its history and we highly recommend you do both on your holiday.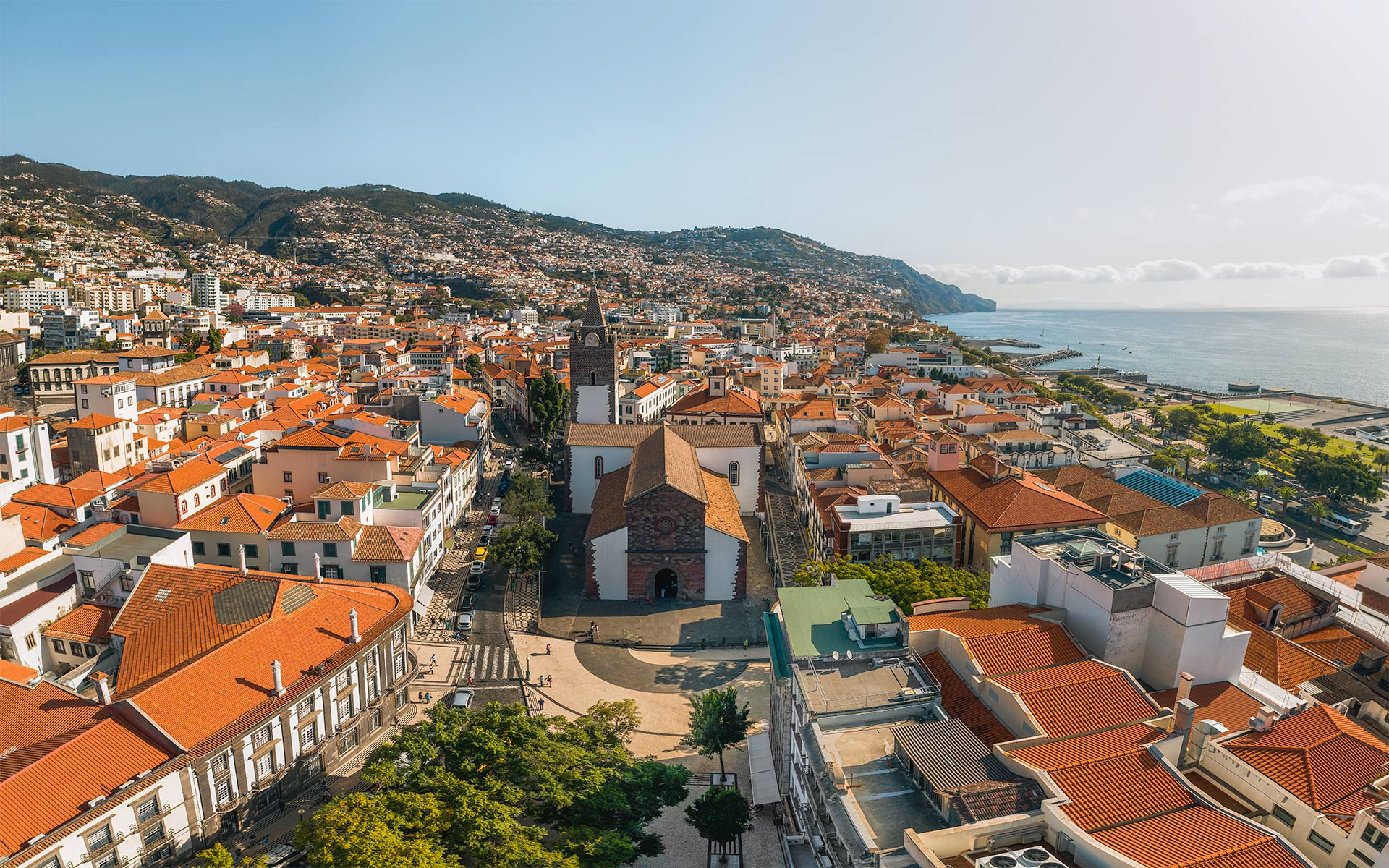 Casas de Santana
Casas de Santana or Santana's thatched houses are picturesque, brightly coloured houses located in Santana and they have become a symbol of life in Madeira around the world. These unique, triangle homes which are made up of wood and materials from the surrounding areas, tell a piece of Madeira's history all on their own.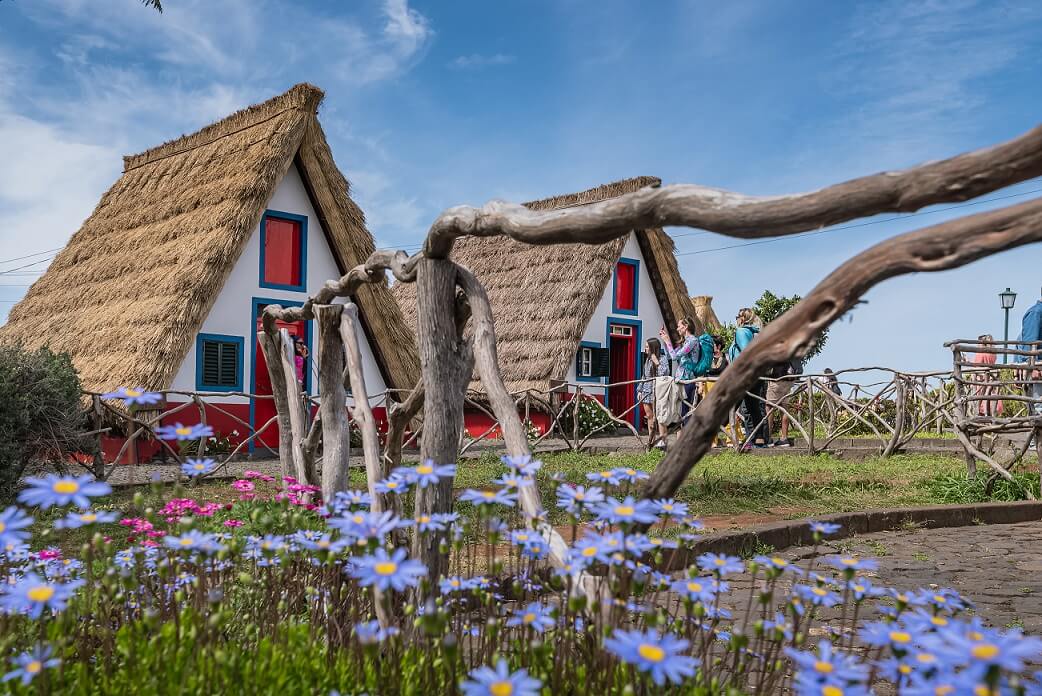 Enjoy Madeira's Gorgeous Gardens
Madeira, being such a lush green island is home to a number of stunning gardens. Because of its subtropical climate, Madeira's flora is unique and features flowers, plants, and trees from all over the world. The Madeira Botanical Gardens and the Monte Palace Tropical Gardens are just two of many of the island's gardens worth visiting.
How to get there?
If you dream of escaping to this lush paradise, Madeira is a short flight away. Ryanair offer a year-round, direct service from Dublin Airport and the flight time to Madeira is approximately 3 hours and 50 minutes.
Where to stay in Madeira – Funchal
Located approximately one hour north of the Canary Islands, this Portuguese destination is a world away from home. If you are planning a trip from Ireland, the best place to base yourself in Madeira is the gorgeous capital of Funchal. Funchal is a city that will surprise you because it is a city that combines a cosmopolitan spirit with one of nature and it truly embraces its surroundings.
With so much to enjoy within the city itself, it makes for a great base to see all that Madeira has to offer. The city is also home to fantastic hotel accommodation options to suit all budgets, with it being a really affordable destination for five-star hotels, for those who enjoy a little luxury on their getaways.
Our top 5 recommended Madeira hotels are:
5* Pestana Carlton Madeira Ocean Resort
5* Pestana Casino Park Hotel
4* Travellers Pearl by Storytellers
5* Melia Madeira Maire
5* Pestana Grand Premium Ocean Resort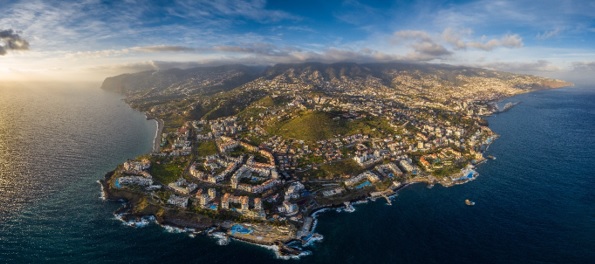 Weather in Madeira
Due to its subtropical climate and location, Madeira is a year-round destination for those wanting to enjoy sunshine on their holidays. Summers are dry with July and August having the highest temperatures of up to approximately 27 degrees. Spring and Autumn are also popular due to the pleasant temperatures, while the winter is very mild.
Madeira Holidays with Click&Go
So, there you have it, a little taste of the wonderful island of Madeira and all that it has to offer. If you would like more information on holidays to Madeira, check out our website here or alternatively, contact our five-star holiday experts seven days a week on 01-6995329.