Being a huge Disney fan, Disneyland Paris has been on my list for years to visit and I finally got to visit it for a weekend this month with my equally Disney-enthused friend, Triona. We walked (according to my phone) 39.4km over the 3 days or 67,425 steps, but we enjoyed every step.
Here's my guide to the park and some tips to make the most of your visit there…
Hotels in Disneyland Paris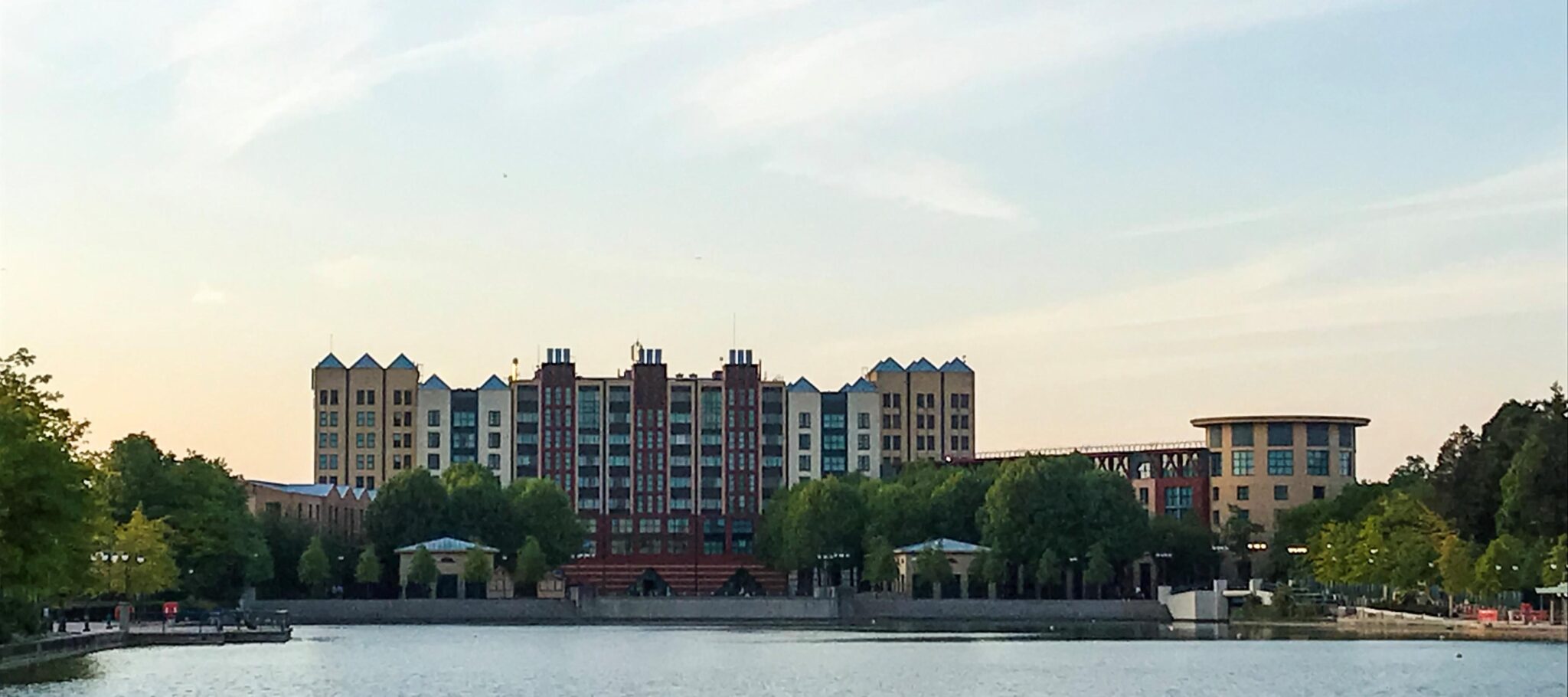 We stayed in Disney Village and picked the 4* New York Hotel, which was only a few minutes walk to the entrance of the park. From October 2018, it's going to be closed for refurbishment – it's going to become a world of Marvel Superheroes.
The staff are friendly and the rooms are spacious and comfortable (although you don't spend much time there). We didn't eat in the hotel, but we did visit the bar, which was very relaxing after a long day in the park.
If you're a fan of Goofy, he was there each morning for a meet and greet near the elevators.
The other hotels Click&Go offer in Disneyland Paris are:
5* Disneyland Hotel
4* Newport Bay Hotel
3* Sequoia Lodge
2* Sante Fe Hotel
2* Cheyenne Hotel
Benefits of staying in the Disneyland park
Proximity: You're less than a 5minute walk to the park entrance at the Disneyland Hotel. They're in the Disney Village section which is filled with restaurants and shops, which is ideal if you want a break from the two parks.
Tickets: Tickets to the park are included when you stay in the park so if you stay for 2 nights, you get 3 days entrance to the park.
Extra Magic Time: By staying in the park you also get to avail of 'Extra Magic Time' so you can start your day an hour and a half before everyone else. The park opens for general admissions from 10am but you can enter from 8.30am.
Shopping: If you buy anything in the shops in the park, you can get it delivered to your hotel so you're not lumbered with extra bags during the day. Your purchases are delivered to your hotel's shop around 8pm.
Food in Disneyland Paris
A half-board meal plan was included in our booking and, as we were staying in the New York Hotel, we were on the 'Plus' plan. The plan includes breakfast and lunch/dinner and, depending on your hotel, you have a wider choice of restaurants (the Plus plan is the middle tier plan).
Breakfast
Our breakfast was in Café Hyperion, near the Star Wars rides in Discoveryland. It included an omelette burger (like a McMuffin), croissant/pain au chocolat, orange/apple juice and coffee/tea. It was the perfect amount to keep you going until lunchtime.
You could also have breakfast in the hotel and, with half board, pay the difference on the value, which our concierge said would be around €13. Or, you could have breakfast in one of the cafes along the Main Street. Or, if you wanted to splash out, a character breakfast costs around €39 per adult but they seemed to finish quite early.
Lunch
We decided to keep our second meal for our evening meal so, for lunch, we tried 2 places in Disney Village and one in Disneyland Park.
Rainforest Cafe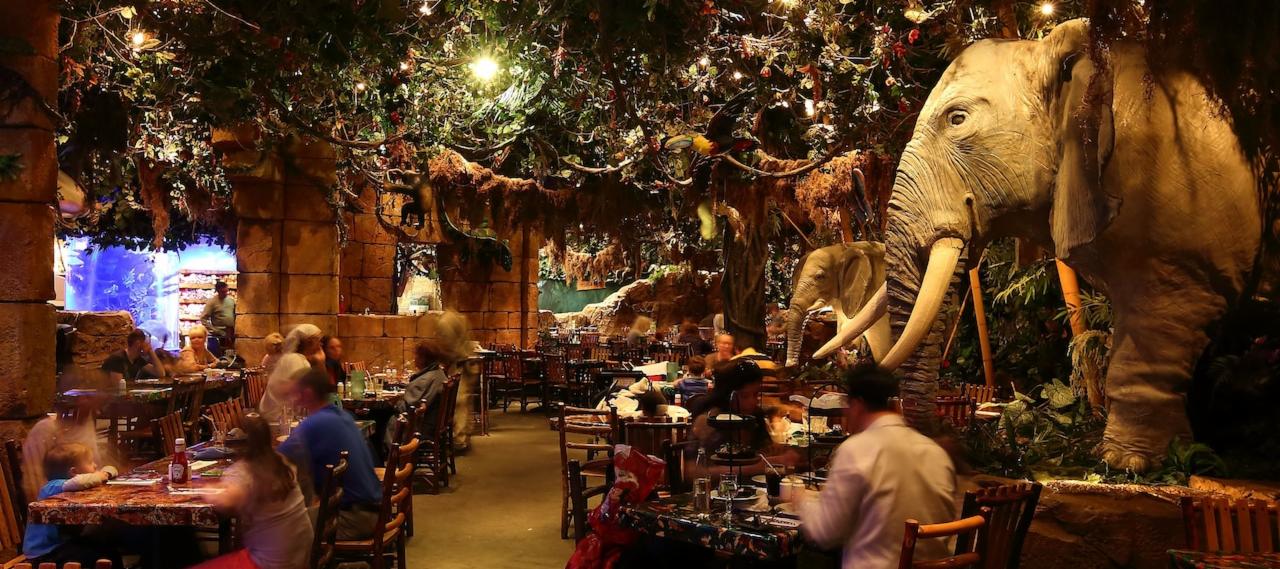 We went here on day one. The food in the Rainforest Cafe was delicious and had plenty of options for vegetarians (which my friend is). The restaurant had elephants swinging their trunks, monkeys making noise and butterflies flapping their wings, which transfixed all the kids. We sat beside the elephants and the kids near us were fascinated by them – one even tried to feed the elephant!
Colonel Hathi's Pizza Outpost
We made the mistake of trying to go for lunch in Adventureland (Disneyland Park) between 1 and 2.30. My friend queued for about 30-40mins in Colonel Hathi's (near the Indiana Jones rollercoaster) to get our lunch and while she was queuing I checked Captain Jack's Restaurant to see if that would be quicker but it had a 2-hour wait for a table. The pizza was lovely and a meal shared between the two of us was pretty cheap, around €20 all-in-all.
King Ludwig's Castle
We wanted a break from the park on our last day as it was very warm and busy (and we learnt from the previous day's mistake) so we headed back to Disney Village. We settled on King Ludwig's Castle, which is themed after the German king, King Ludwig who's biggest project as king was Neuschwanstein Castle in Bavaria, which was Walt Disney's inspiration for Sleeping Beauty's Castle. We got a table immediately and our very German spaetzle was delicious.
Dinner
We had dinner in the Newport Bay Hotel's Cape Cod restaurant the first night. It was a buffet dinner – there was plenty of choice and everything was delicious. We even got a seat at a window so we could watch the sunset on the lake.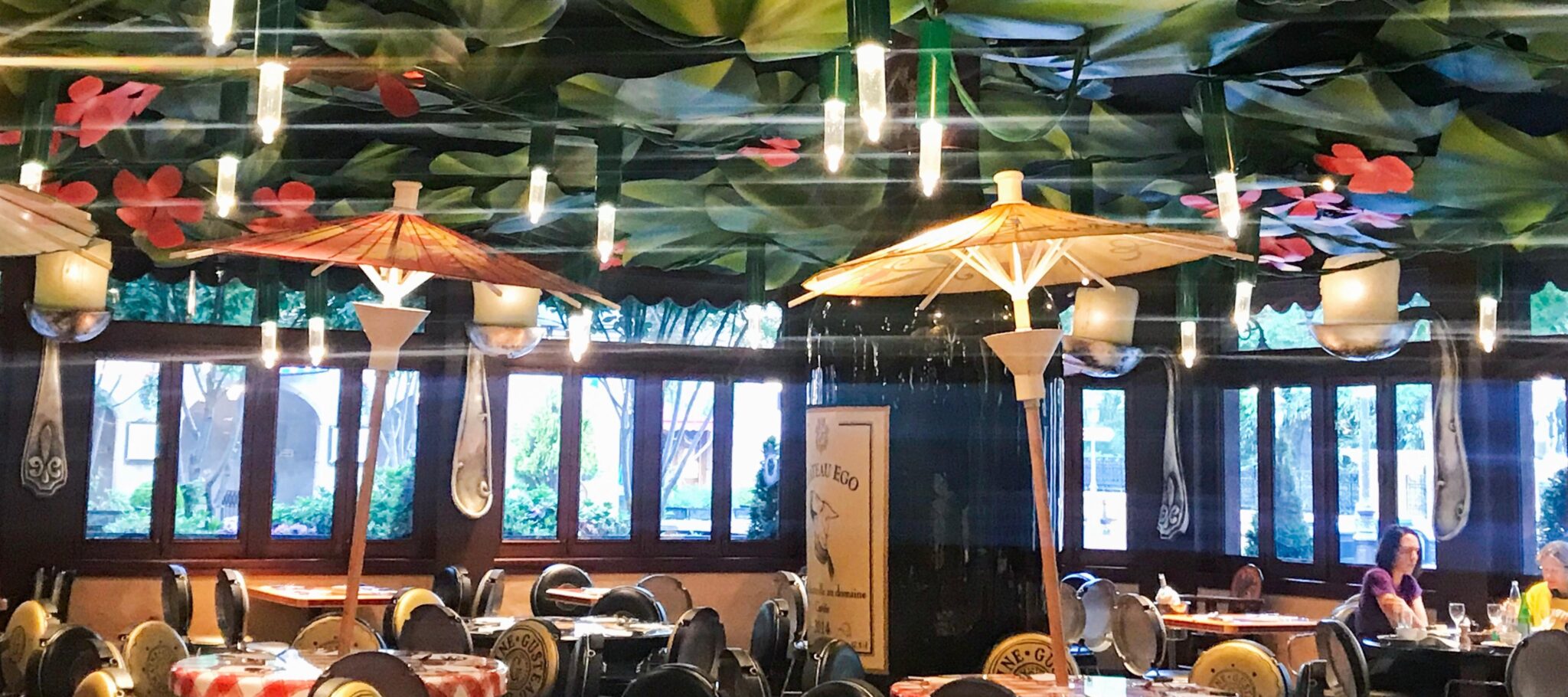 For our second night, we had dinner in Bistro Chez Remy, which we had booked about 3 weeks in advance. It's brilliantly themed after the movie, Ratatouille with bottle cap chairs, massive fairy lights and leaves draping from the ceiling, two huge cookbooks with cork stopper seats. The food was absolutely top notch and Triona's vegetarian main course looked scrummy.
Top tips for eating in Disneyland Paris
Book your evening meal in advance, especially if going to a table service restaurant like Bistro Chez Remy.
If you're eating in the park, particularly Disneyland Park, go for lunch before 12.30, especially on weekends.
Take a break and visit the Disney Village for lunch where it's quieter and you have a wider range of restaurants (Anette's Diner, King Ludwig's, Rainforest Cafe, Earl of Sandwich, Planet Hollywood, McDonald's).
Disneyland Paris Parks
Disneyland Park
Disneyland Park is divided into five sections: Discoveryland, Adventureland, Fantasyland, Frontierland and Main Street. It's open from 10am to 11pm.
Discoveryland
Discoveryland is all things outer space and science and located to the right of the Castle.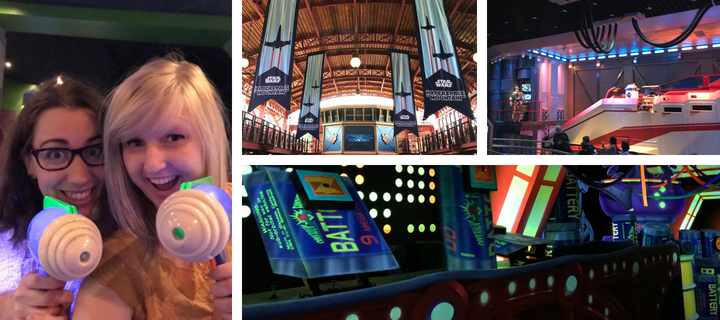 In Buzz Lightyear Laser Blast, you have to shoot targets with lasers to defeat Zorg. It's brilliant for kids (or competitive adults) as it keeps track of your scores as you zap through it. You can buy a Disney Premier Access on this, we didn't even though our wait time was around 35mins it moved quickly.
Star Wars Hyperspace Mountain was so good we went on it twice, and it was even better the second time as you really feel like you're being blasted through space. We went straight after breakfast so our wait time was only about 5mins.
Star Wars: The Adventure Continues is a simulator attraction where C3PO is bringing you through the galaxy while under attack from the First Order. Did I duck at the lasers in it? 100%. Would I go on it again? 100%. The Star Wars Souvenir Shop, which you walk into from The Adventure Continues, is also themed and you can get a fab 6×4 souvenir photo for €2.
Adventureland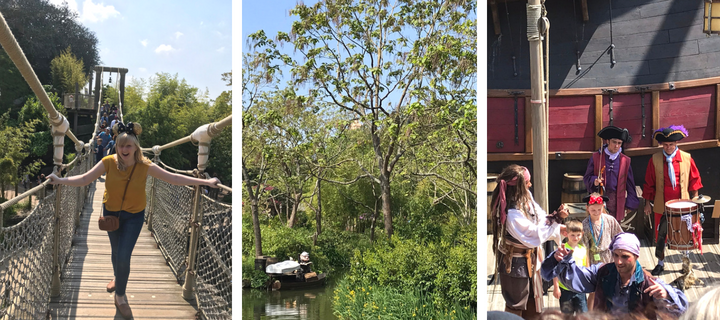 The Indiana Jones Temple of Peril rollercoaster felt like a traditional rollercoaster ride and it was brilliant, albeit a bit short. Pirates of the Caribbean, although the wait time can go up to 70mins, is worth the wait and there's plenty to keep you amused as you queue. Naturally, it's a boat ride so you get to see what life is like as a pirate. It's so well done that you forget how long you queued for.
Fantasyland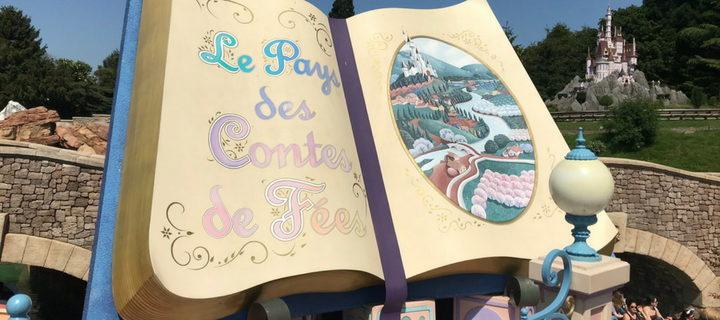 Fantasyland is themed around a fairytale village and it's very much geared towards smaller kids (I didn't see any height restrictions on the rides). This also means the queues can get a bit crazy so go either early in the day or during the parades.
We went on the 3 attractions below, but Le Pays des Contes de Fées was my favourite. It's a very pretty boat ride around miniature versions of classic Disney films and le Petit Train du Cirque whizzes around above you.
'it's a small world'
Le Pays des Contes de Fées
Caset Jr. – le Petit Train du Cirque
Frontierland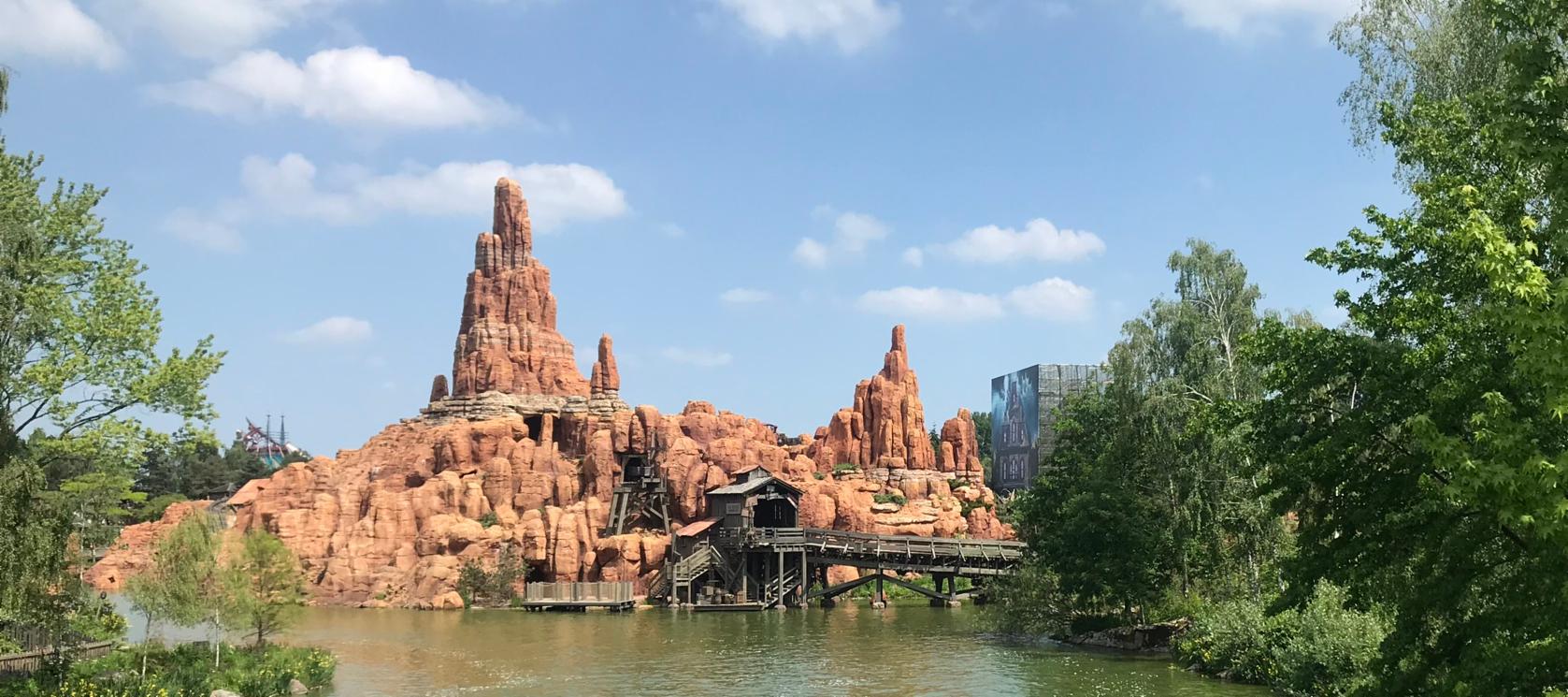 Frontierland was the last part of the park we explored. If you want to go on Thunder Mountain (pictured above), go early in the morning. By the afternoon when we were there, there was a 2-hour wait and 3 hours until the next Fastpass slot.
In comparison, the Thunder Mesa Riverboat Landing only has a 15min wait and is a lovely relaxing boat trip around the lake in Frontierland. Perfect post-lunch activity!
Sleeping Beauty's Castle & the Main Street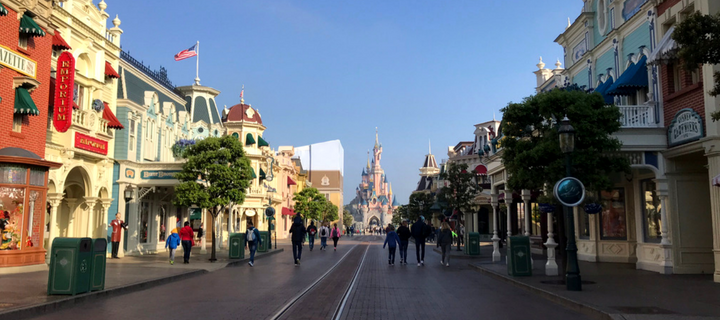 La Taniére du Dragon is under the castle and is great for little kids. It's a very realistic dragon that is asleep but wakes up every 5mins or so to entertain/terrify kids. One child, about 3 or 4 years old, screamed with delight every time the dragon woke up and refused to leave when her parents asked if she had seen it enough. It's also great if you want to get out of the sun for a few minutes!
The Main Street itself is filled with shops and cafes with arcades on either side, which are great for walking through when the street is busy. The shops are nice for a browse after the illuminations show when it's a bit quieter. All the parades loop around the Main Street, such as…
Disney Stars on Parade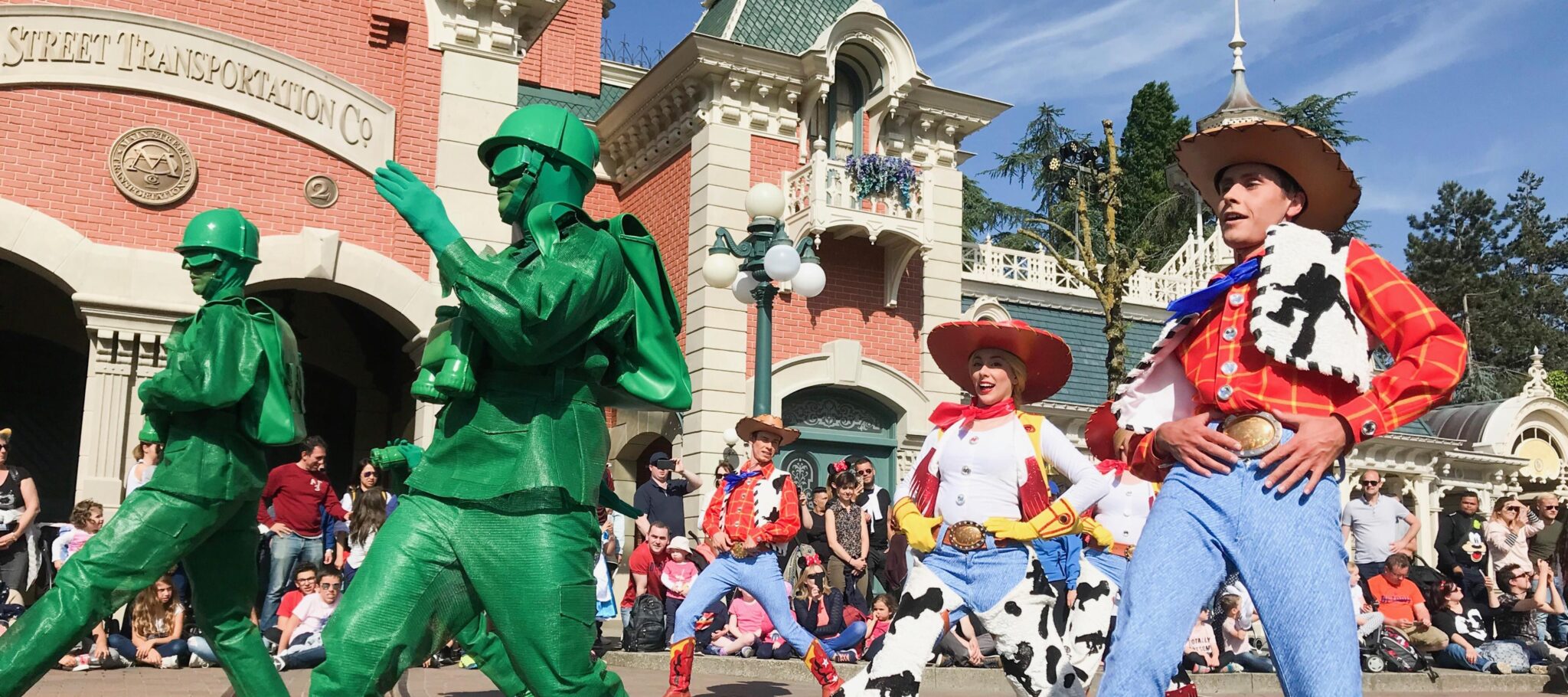 The Disney Stars on Parade features all of your favourite Disney characters and it's brilliantly done. We got to sit on the ground near the Main Street Railway Station and had a front-row view of it all. Most of the movies referenced in the parade had really impressive floats with extra characters dancing around them and interacting with the crowd. Both ourselves and the kids around us were loving every second of it.  It's on at 5pm every day.
Disney Pirate or Princess: Make your Choice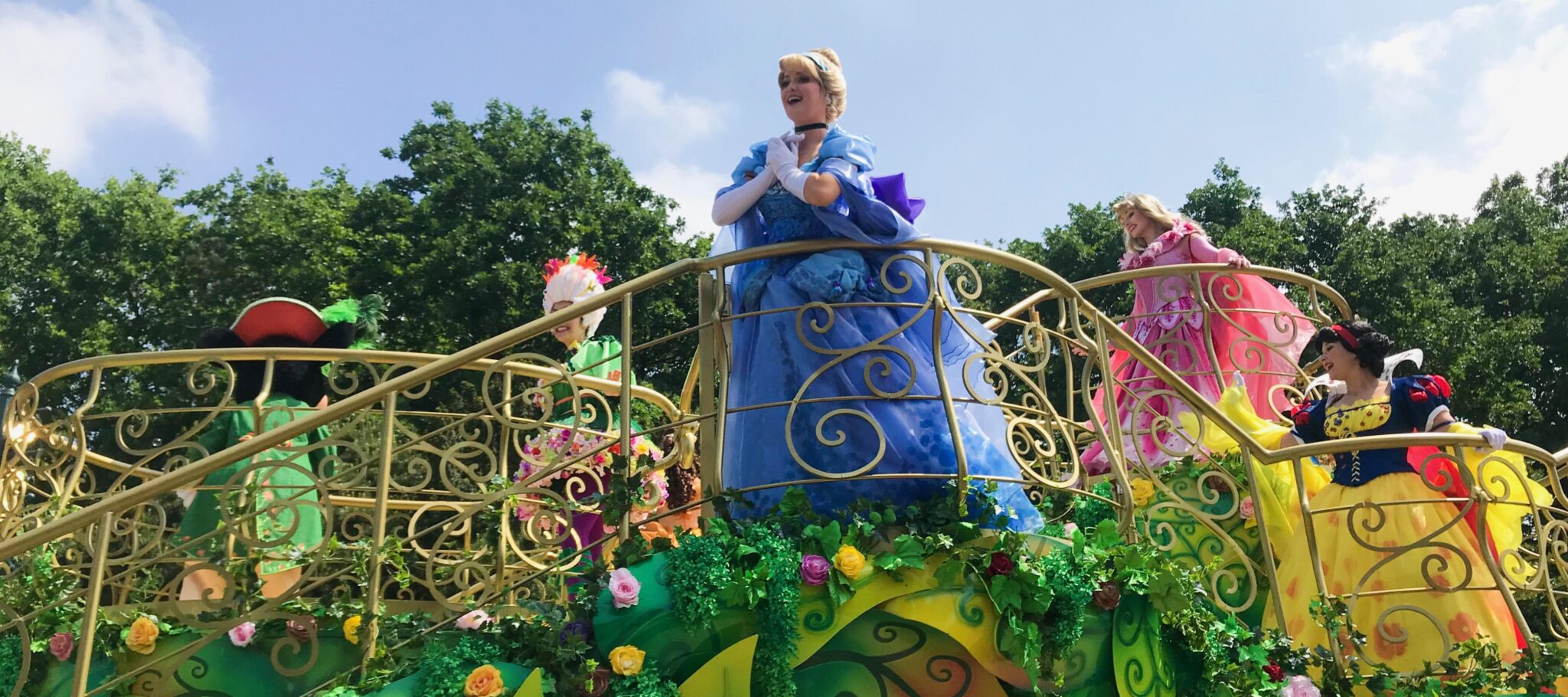 It's princess and pirate season in Disneyland Paris at the moment. We stumbled upon both the Princess and Pirate parts of the parade separately by accident. It's really fun, even the security guys were dancing and singing along to it (I still have the song stuck in my head). It's quite crowded around Main Street for it, but we saw the start and end of it at the side of the Castle. It's on at 11am, 12.10 and 2.50pm every day.
The Spectacularly Sparkly Disney Illuminations Show
The biggest attraction at Sleeping Beauty's Castle is the Spectacularly Sparkly Illuminations Show. Get there early to get a good spot so you can really experience the whole show. It lives up to being spectacularly sparkly filled with fireworks, fire and water fountain displays! The Lion King and Star Wars illuminations were my favourites. It's on at 11pm and lasts for 20-30mins.
Walt Disney Studio Park
Walt Disney Studio Park is the place to be in the afternoon as it's quieter than the main park. It has 3 main areas: Toon Studio, Backlot and Production Courtyard. It's quite spacious so you don't feel the crowd as much. It's open from 10am until 8pm.
Toon Studio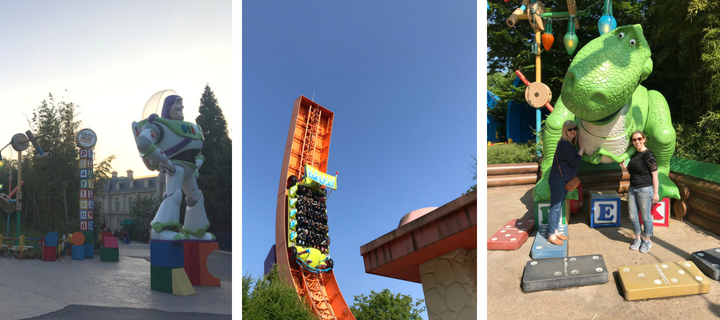 The Toy Story Playland has RC Racer, the Slinky Dog Zigzag and, most importantly, a big Rex dinosaur that you can pose with. The RC Racer is one to go to early as, judging by its queue system, can get quite busy.
Ratatouille: The Adventure is behind the Playland. Queues were up to 70mins any time I checked the app so it's one that is definitely worth buying a Disney Premier Access for. We Fastpassed it and went into Playland until our slot. It's another simulator where you're in the kitchen with Remy, just trying to survive. It's so well done and so much fun!
Production Courtyard
The Twilight Zone Tower of Terror, although the actual ride is in French, is a must. You're in a lift in a haunted hotel and being brought up and down the hotel. It definitely gets your adrenaline going as it took me a while to recover from it. The attention to detail throughout the hotel is superb!
While we waited for our heart rate to return to normal, we took Studio Tram Tour: Behind the Magic to learn all about what goes on behind the scenes of the live action films and see some full-scale sets and special effects.
Backlot
Rock'n'Roller Coaster starring Aerosmith is completely in the dark, but we weren't big fans as our heads kept hitting the seats. If you're a fan of Aerosmith do check it out as even the rock memorabilia is fascinating to look at as you're queueing.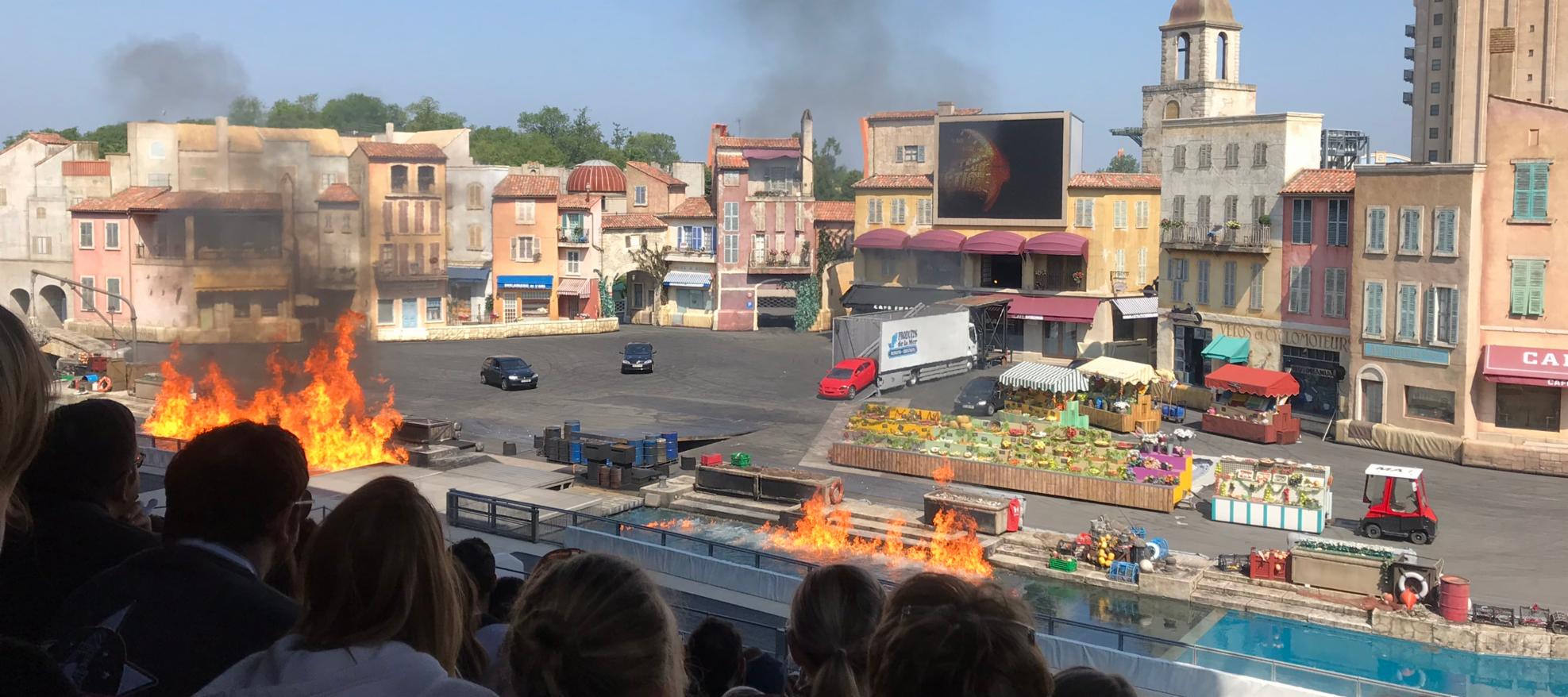 Moteurs Action: Stunt Show Spectacular is on at 11.15am and 2.15pm every day and is well worth checking out. In English and French, they talk you through and show you how they do car and motorcycle stunts in movies. Really interesting to watch and will definitely make you appreciate stunt professionals.
Mickey and the Magician
In this show, Mickey Mouse has to clean a magician's house in order to be trained as a magician but keeps getting distracted by magical Disney characters. Mickey speaks in French but all the characters and the magician speak English so you know what's going on. We grinned from ear-to-ear and sang along for the entire thing. It was absolutely fantastic and I'd highly recommend it!
Top tips for visiting Disneyland Paris
Download the Disneyland Paris app as it has a map of all attractions, restaurants, shops, toilets, etc. It also shows rough wait times for all the rides.
Bring comfortable shoes as you'll be walking and standing for at least 10 hours.
Get to the parades and illuminations show early so you can get a good place to stand.
Take advantage of the Disney Premier Access (which replaced the FASTPASS).
If staying in the park, make the most of 'Extra Magic Time' in the morning to beat the crowds.
Don't stress about shopping during the day as shops on Main Street and in the Disney Village stay open until midnight.
The level of detail in every section of the park and on every ride was remarkable. It really does feel like the happiest place on earth as you instantly get that child-like sense of awe every time you walk about 5 steps.
Disneyland Paris is a magical holiday destination whether you go with family or friends – so, when will you go?
Click&Go Travel Podcast on Disneyland Paris