Top 5 Destinations to Visit in Greece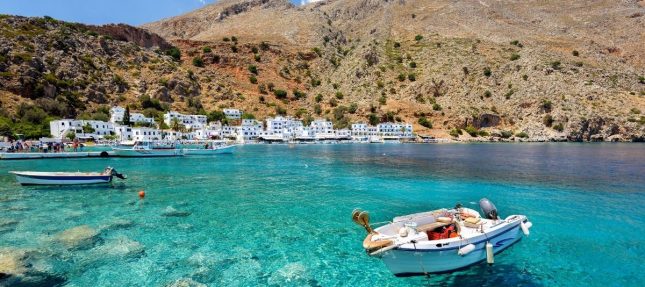 Greece is the birthplace of democracy, political science, Western literature and philosophy and the Olympic Games. With 80% of Greece is covered in mountains or hills, it's a brilliant choice for a sun holiday thanks to its lower lying peninsulas and its 200+ inhabited islands.
Greece is often overlooked for a sun holiday in favour of more popular destinations like Portugal or Spain, but it packs its own punch when it comes to relaxation. Read about 5 of our favourite Greek destinations and consider soaking up the sun in Greece on your next sun holiday…
Crete
The largest of the Greek islands, Crete is pristine. With lovely villages and ancient history, Crete is a perfect place to experience Greek hospitality. Crete is filled with Gods and legends as it's the birthplace of Zeus and home to the legend of Icarus. You can feel the mythical history as you stroll along the famous Elafonisi pink sand beach. An important part of Cretan history is its winemaking, which has been continuous for over 4,000. There are currently just over 80 wine producers on the island and plenty of vineyards offering tours and tastings. 
Corfu
Corfu, a UNESCO World Heritage Site, is a striking island, from its sandy beaches to its lush pine and cypress tree-filled interior to its olive trees and striking sandstone cliffs. It's a great destination for truly unwinding, disconnected and taking in all the benefits of time surrounded by nature. In Corfu Town, you'll see a strong Venetian influence in its pastel buildings, winding streets and the Venetian fortress, which offers unbeatable panoramic views of the island. Corfu is one of the best destinations in Greece for scuba diving and Paleokastrítsa has the best diving spots. Don't leave the island without tasting some of its famous olive oil. With over 4 million olive trees, a tour of its groves should be top of your list!
Halkidiki
Halkidiki is a hidden gem in Greece. It has unspoilt beauty in abundance and oozes Greek charm. Known as the "hand of Greece", it has three distinct peninsulas: Kassandra, Sithonia and Athos. Kassandra is the most developed of the three with a lively social scene. Sithonia is quieter but equally as picturesque. Athos is a secluded monastic community and is extremely difficult to access. Halkidiki has over 550km of beautiful coastline and 70 Blue Flag beaches to dip your toe in. It's also rich in history as it's the birthplace of Aristotle and 700,000-year-old stalagmites in the impressive Cave of Petralona.
Rhodes
Rhodes is a fascinating island. Adorned with gorgeous beaches and amazing resorts, it's also filled with history. Rhodes Old Town is a UNESCO World Heritage Site and is the oldest inhabited medieval town in Europe. Outside of Rhodes Town, Lindos is the most charming and authentic town on the island. Overlooked by an ancient acropolis, Lindos has whitewashed buildings, narrow cobbled streets and a beautiful beach to laze on. 
Santorini
Santorini is a very popular bucket list destination, and for good reason! Shaped like a croissant, Santorini is picture-perfect in every way. Its sunsets are iconic with visitors flocking to Oia and  Akrotiri Lighthouse daily to watch the sunset on the horizon in a wash of brilliant colours. Instead of golden sands, you'll find a red sand beach with striking volcanic cliffs in Santorini. Amoudi Bay is famous for its fresh seafood and authentic Greek tavernas and restaurants. This is the perfect Greek destination to indulge in some luxury and pampering!
Where in Greece will you visit first?
---