5 Destinations in Italy We Can't Wait to Visit Again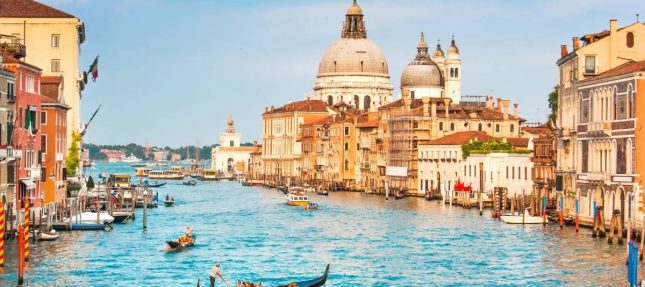 Italy is one of our favourite countries to visit as it's so rich in history and culture, has one of the most delicious cuisines and will never leave you bored. As we start to travel again, these are the top five destinations in Italy that we can't wait to visit…
Venice
Venice is a city that everyone should visit once. It's completely unique and will leave you awestruck. Get lost in its small streets, gaze at gondolas in its canals, and be mesmerized by how untouched the buildings look. Some of the top places to visit include the Rialto bridge, St. Mark's Square, St. Mark's Basilica, the Campanile and Archeological Museum. Venice is a place where you can easily ramble around all day stopping for coffees, visiting museums, dipping in and out of shops and just soaking in your surroundings. You can also visit Murano, the island where the famous Murano glass is made, or Burano, filled with colourful fisherman's houses and its famous seafood.
Amalfi Coast
Sorrento and the Amalfi Coast exude charm. You feel like you're stepping into a smooth Dean Martin song as you explore its twisty coastal road. Starting in Sorrento, you'll be surrounded by lemon trees and a sweet scent in the air. From Sorrento, you can visit all the romantic towns along the coastline such as Positano and Amalfi or venture into the mountains to visit Ravello. You can also take the hydrofoil to the stunning islands of Capri, to see the designer shops or buy some floral perfumes, or Ischia.
Rome
The Eternal City is one that's top of our lists. Step into your own 'Roman Holiday' as you visit some of the world's most famous historical sites and landmarks. There is so much to see in Rome that one visit isn't nearly enough! Visiting The Colosseum, Pantheon, Palatine Hill and Roman Forum, you'll feel like you're back in ancient Rome, when the empire was in its prime. In the Centro Storico, the historic centre of Rome, you'll find the Trevi Fountain, Spanish Steps and In the evenings, visit the Travesterre neighbourhood for traditional Roman dishes, quaint cobbled streets and renowned nightlife. Whatever you choose to do in Rome, it'll be a city break to remember!
Sardinia
Soak up the sunshine in Sardinia. With 2,000km of coastline, it has some spectacular beaches for you to enjoy the Mediterranean waters. Still relatively unspoilt, there are endless beaches to discover like Cala Golorotze, the UNESCO World Heritage beach, or the paradisiacal beaches of Chia on the south coast. If lounging on the beach isn't for you, Sardinia is filled with a rich history and culture, like the walled city of Alghero or the medieval town of Bosa. If you like watersports, Porto Pollo is the place to go for surfers or visit Cala Mariolu's crystal clear waters for snorkelers.
Milan
With fashion, football, history and a buzzing atmosphere, Milan is a city that shouldn't be overlooked. On your visit to Milan, Il Duomo should be your first stop. Taking over 500 years to complete, it's one of the world's largest churches with room for 40,000 people, 52 pillars, 135 stone pinnacles and a whopping 2,245 marble statues. In the church of Santa Maria delle Grazie, you'll see Leonardo de Vinci's famous Last Supper painting. Relax in Milan's most popular park, Parco Sempione, originally a garden for dukes to enjoy. Football fans can visit AC Milan's San Siro Stadium.
Which Italian destination will you be visiting first?
---