Our Top Alternative Christmas Markets to Explore
When you think of the classic Christmas market, strolling through craft stalls with warm mulled wine in hand and bright lights all around, there are probably a few key European cities which come to mind. Though the markets of Vienna, Frankfurt, and Berlin are spectacular, they aren't the only hotspots to check out for this festive tradition. You may find some hidden gems at these lesser-known Christmas markets this upcoming Advent season.
Wroclaw Christmas Market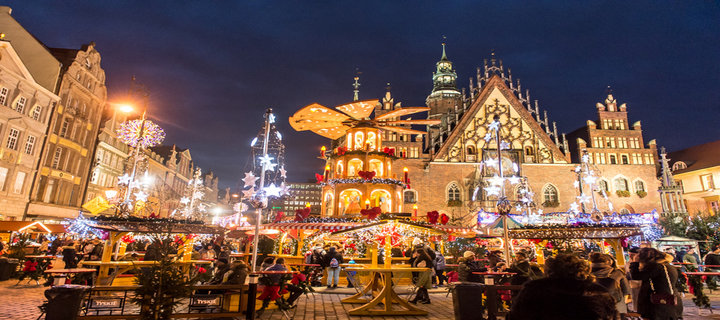 The Christmas market in Wroclaw, Poland showcases a brilliant display of Christmas charm with its own special touches. Located in the main Market Square in the city centre, this festival features several amusement rides, a stage for scheduled performances, many mulled wine dispensaries, and the one of a kind 'Bajkowy Lasek,' or Fairy Tale Forest. Here, wooden animatronic magical creatures act out everyone's favourite fairy tales.
With plenty of shops with handcrafted gifts and food stands featuring local delicacies like original halva, highlander's cheeses, and, of course, chocolate gingerbreads, Wroclaw's Christmas market should be on your radar this season.
Opens: Third week of November

Closes: 31st of December
Riga Christmas Market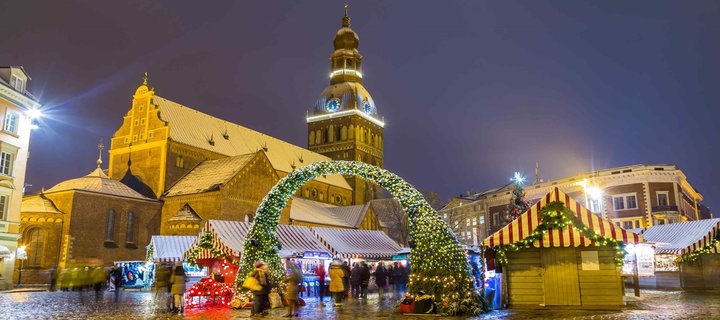 Many speculate that Riga was where the very first Christmas tree was put up in 1510, so there's no better place to celebrate the holiday! The Cathedral Christmas Market, located in the central Dome Square, includes traditional Latvian souvenirs such as hand-knitted wool shawls, mittens, and socks, as well as candles, woodwork, and more.
In addition to the customary mulled wine and gingerbread biscuits, you can try the hot Riga Black Balsam cocktail or the Latvian speciality, grey peas with bacon, sausage, and sauerkraut. Kids will love Santa's daily visits, feeding the barnyard animals, and live music each evening.
Opens: Last week of November

Closes: 6th of January
Seville Christmas Market
Perhaps Spain isn't the first destination you imagine when trying to get into the Christmas spirit, but Seville's warm winters mean that you can comfortably enjoy the markets even late in the evenings! There are various displays as a part of Seville's Christmas celebrations, but the Mercado Navideño de Seville Capital outside Nervión plaza is a unique spot we recommend visiting this year. Unlike other markets, small, individually decorated wooden cabins house shops where you can purchase local artwork, sweets, jewellery, clothing, and other gifts.
Be sure to stroll around the city to see the famous ornate Nativity scenes and listen to the 'campanilleros,' or musical choirs, echoing through the streets.
Opens: 6th of December

Closes: 6th of January
Cologne Christmas Market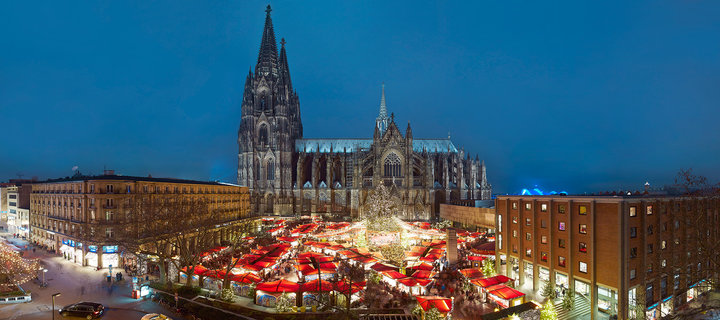 Germany's cities contain some of the best Christmas markets in Europe, and Cologne is no exception. This cultural centre is home to multiple vibrant Christmas markets worth visiting, including the Cathedral Christmas Market, the Old Town Christmas Market, and the Angel's Christmas Market.
The Cathedral Christmas Market features a wide variety of sweet and souvenir shops, as well as a stage for over 100 Christmas-themed performances running throughout the Advent. A 25m tall Christmas tree stands tall in the centre of the square.
At the Old Town Market, children will adore the endearing legends of helpful house gnomes who prepare everything for the festival. They'll find Santa in his quarter, a puppet theatre, and many toy stands. The Angel's Christmas market is renowned as Cologne's oldest market and as the site where 'angels' dressed in all white visit weekly to douse the streets in golden glitter.
Opens: 26th of November

Closes: 23rd of December
Vilnius Christmas Market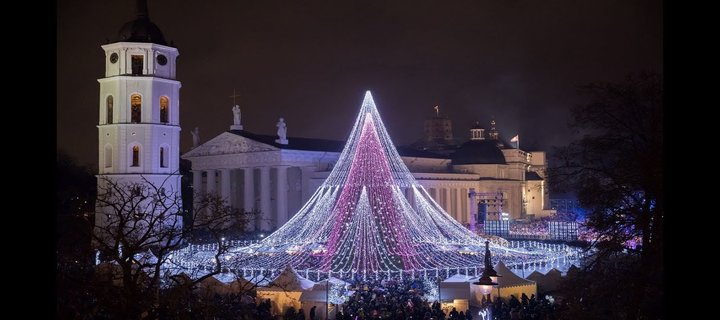 The capital city of Lithuania celebrates the Christmas season with a number of enjoyable markets worth visiting. Vilnius's largest and most frequented market is in Cathedral Square surrounding the city's massive, gleaming Christmas tree. The market opens the same evening that the tree is lit, and visitors can enjoy seasonal treats like herbal teas, mulled wine, and pastries. This market is also a good spot to shop for handmade Lithuanian souvenirs but may easily become overcrowded.
Heading over to the market in nearby Town Hall Square is a great way to peruse the work of many great artisans while avoiding the congestion. Besides, these booths are quirky, photo-worthy houses! Lastly, the International Christmas Charity Bazaar is a market like no other. Vendors from all over the world come to display and sell their products, making this a diverse, exciting Christmas market experience.
Opens: 1st December

Closes: 7th January
Poznan Christmas Market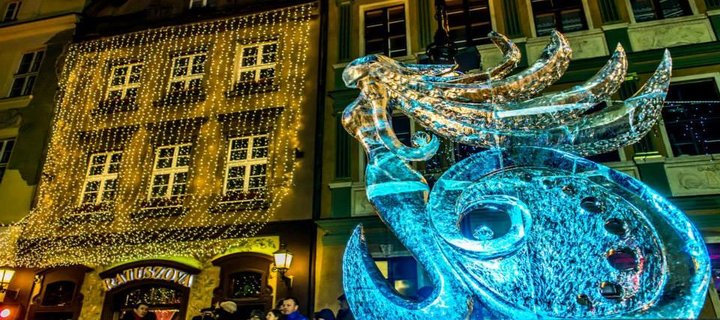 Another Poland destination to add to your list ⁠— Poznan's Christmas markets in the Old Market Square and Freedom Square offer the traditional treasures as well as some entirely original ways to celebrate. Opening first, the Freedom Square market features a 33m tall Ferris wheel, carousel, and the always entertaining Silent Disco, where party-goers all dance to music only they can hear in their headphones!
The walk to the Old Market Square is beautifully decorated and affectionately known as 'Christmas Alley.' In addition to the scrumptious gingerbreads, warm mulled wine, and intricate handmade crafts, this Christmas market is home to the annual International Ice Sculpture Competition, so you can watch talented artists turn ice into unbelievable shapes and figures before your eyes!
Opens: 16th November, 1st December

Closes: 22nd December
This festive season, venture to any one of theses six alternative Christmas markets and discover all-new ways to celebrate the season!
---