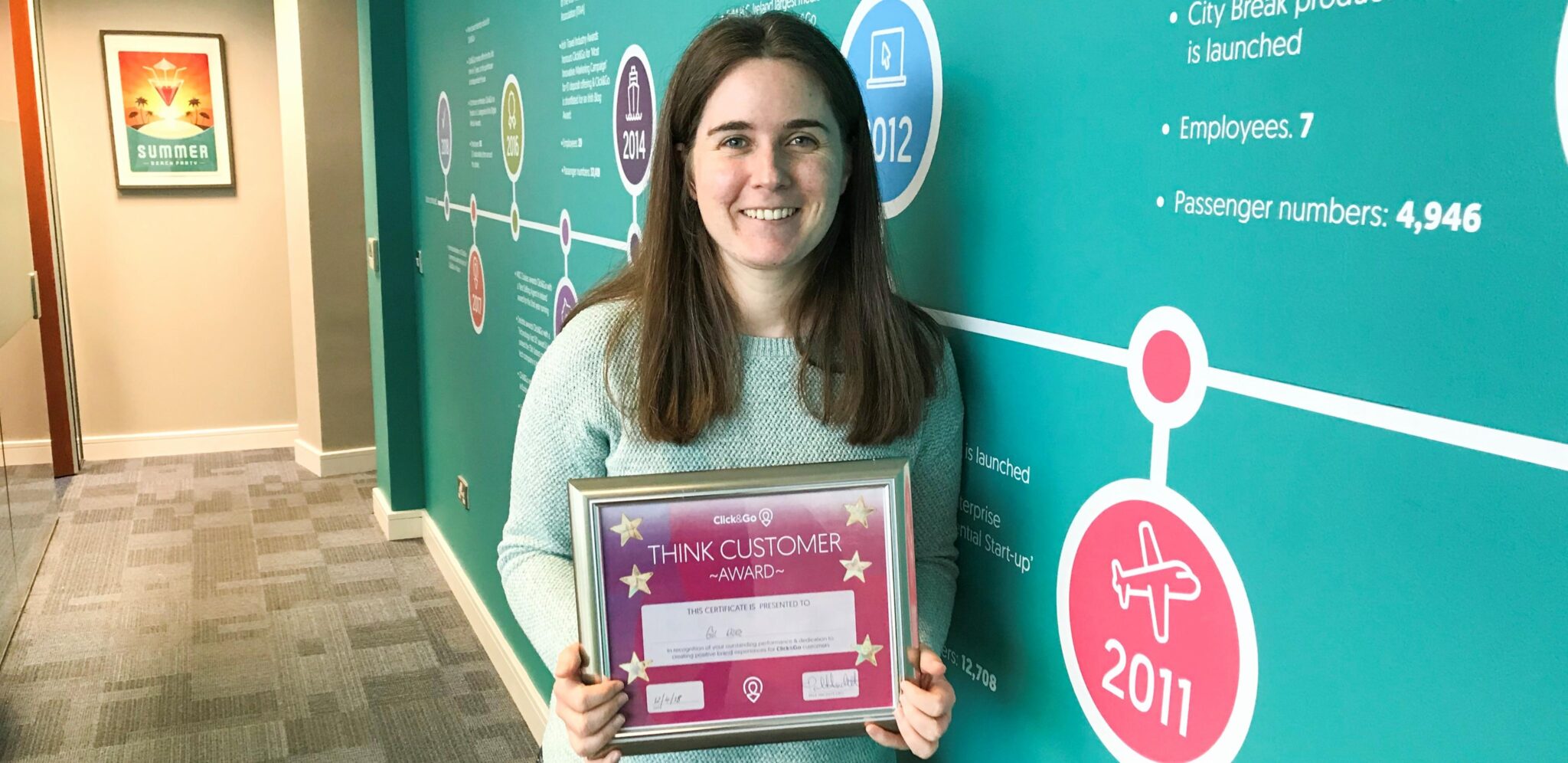 March's Think Customer Award
Since last October, there has been Storm Ophelia, Storm Brian, Storm Eleanor and most recently the Beast from the East mixed with Storm Emma. The latter stopping the country and our lovely customers in their tracks. Each Clickie and team member did their part to help our customers during this time, whether it was Sales & Holiday Support on the phones to customers, Marketing keeping our customers up to date, IT Dev ensuring our systems didn't falter or Finance sorting out refunds for those whose holidays got cancelled.
March was a month where our team really worked together and embodied the Click&Go values. With that in mind, there were 18 nominations for 13 people.
March's Think Customer Award Winner
Similar to February's Think Customer Award, our winner for March isn't part of a customer facing team but has an integral role on the business side. Our Think Customer Award Winner for March is Gillian Wilkie, our Advertising and PR Specialist on our Marketing Team.
While we didn't make her give a speech, on winning the award, Gillian said…
"I am so thankful to be nominated for the Think Customer Award and honoured to have been nominated by my colleagues at Click&Go. Thank you to all my colleagues!"
After the ceremony, Paul said:
"This win for Gillian is so well deserved, there is so much about the way Gillian works that I admire; she is calm, polite, super-productive, efficient, friendly and has a great "can do attitude".  Gillian has grown in her role since joining Click&Go in May 2015 and I want to sincerely congratulate her on winning this award.

I have a personal sense of pride in this award as I work closely with Gillian and I am thrilled that other people in the business recognise her contribution. Gillian is doing a great job coordinating activities and communications across the entire marketing team and also works closely with the sales and product teams, not to mention key external partners like the tourist boards, cruise companies, Aer Lingus, INM and our PR company.

In the first 3 months, we have now seen wins across the business from the Holiday Support Team to IT Dev and now to Marketing and in March we also had great examples across the business of how we all pulled together as a business to live "Think Customer" during the snow and storm of early March and I want to thank everyone for their time, dedication and efforts at that time."
The nominations Gillian received show how much her positive attitude and approachability means to her colleagues. Two quotes that really stood out were:
"She has an extremely positive attitude towards work, welcomes feedback and has great patience with colleagues and suppliers from what I can note. She manages a big workload and never seems to complain and is always approachable. In my view, she's a role model in terms of representing the company core values of Human & Happy."
"She has maintained a very positive attitude through the, sometimes arduous, process of actually getting a partner to commit to funding a joint marketing campaign with Click&Go. She always has a 'can do' attitude and is a real asset to the Click&Go marketing team."
Congratulations, Gillian!
---