Sun Holidays to Bodrum with Click&Go
Holidays to Bodrum - a lively and fun resort - are all about pure pleasure and enjoyment. This Turkish resort is built around a natural harbour and the busy marina area is crammed with local gulets, colourful fishing boats and foreign yachts. Bustling from early morning, the marina is the place to go if you fancy a boat trip or need to book an excursion for a day on the crystal waters of the Aegean. Grab a coffee at a local cafe and watch the world go by.
The resort is very cosmopolitan and Bodrum holidays are renowned for top quality restaurants, moody bars, elegant boutiques, lively local markets and tiny atmospheric shops and stalls. You won't be disappointed as select international brands are available, together with great hotel options.
If you want more than just beach and relaxation, holidays in Bodrum can be quite cultural too. Overlooked by the magnificent 15th century St Peter's Castle, there is a rich heritage here. Concerts, contemporary dance performances and theatrical shows are produced in the wonderful open-air amphitheatre and top-notch festivals throughout the season attract tourists and a large local population. Boasting one of the Seven Wonders of the Ancient World, the city of Halicarnassus was home to the Mausoleum of Halicarnassus (unfortunately destroyed in an earthquake long ago), but retaining much historical significance.
Today, Bodrum is favoured by visitors who like great nightlife as the resort absolutely comes alive when the sun goes down. Often considered a close second to Istanbul by night as the entertainment choices are so good. During the day, Bodrum seems to have a little siesta as most holidaymakers flock to the beach at neighbouring Gumbet, a few kilometres away. The local Dolmus (minibus taxis) operate regularly or you can even grab a water taxi.
Bodrum is also superb for shopping. The market is loud and boisterous and always the place to get a bargain in "designer" bags, shoes, clothes and bric-a-brac. A utopia for the souvenir hunter, there are plenty of other shops which sell good quality swimwear and lovely homewares. Make sure to try (and bring home!) some delicious specialities like Turkish Delight and Apple Tea. In fact, make sure you have enough baggage space for the return flight as Bodrum holidays are very tempting to splurge on gifts for the folks back home.
Hard to believe that a once sleepy village in Turkey, dependant on fishing and sponge diving is now the thriving international playground that is Bodrum today. In fact, the new marina in Bodrum is so sophisticated that the resort has been compared to Monte Carlo!
Show more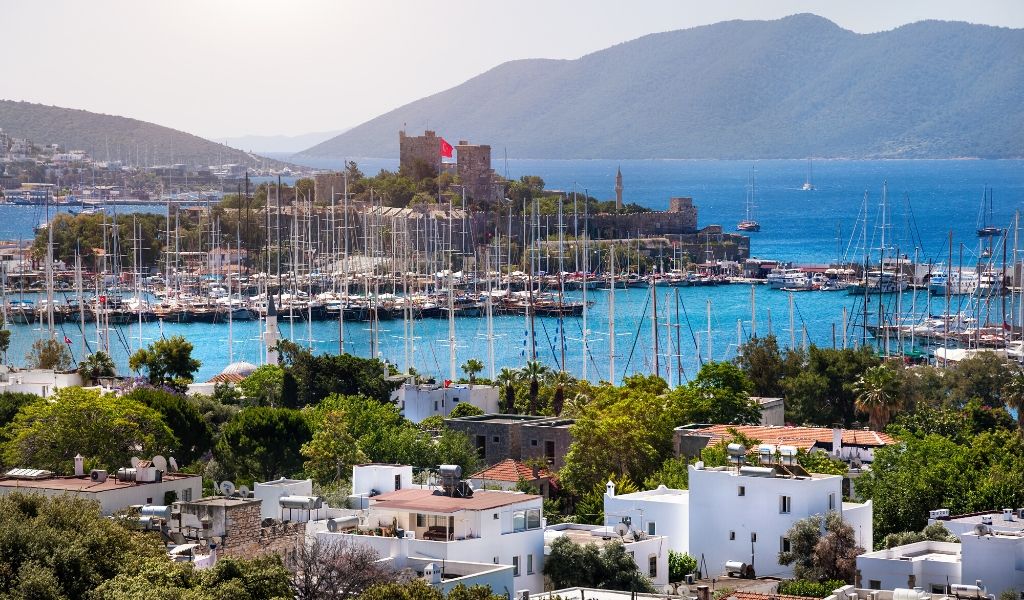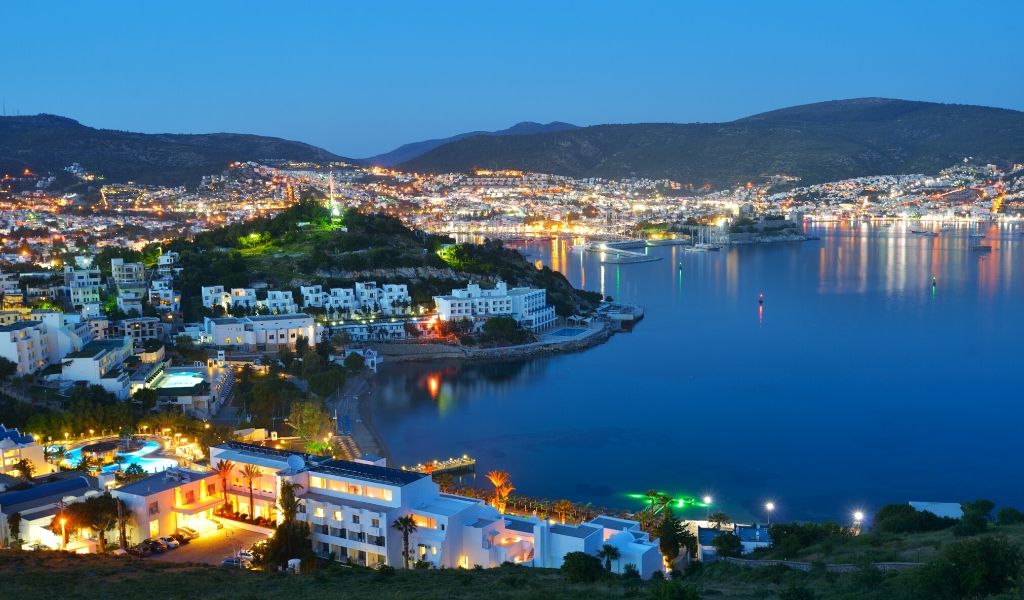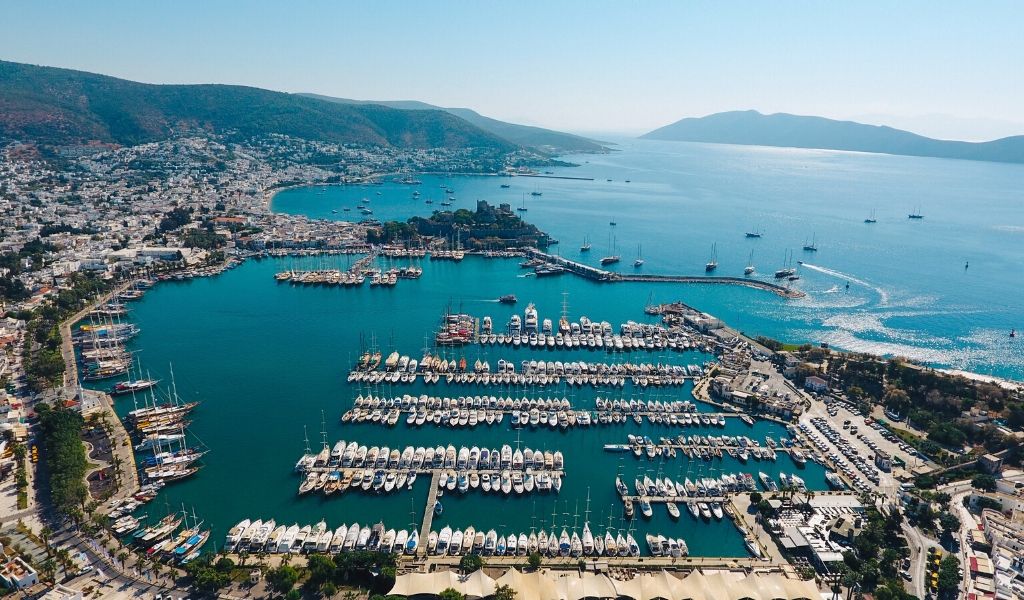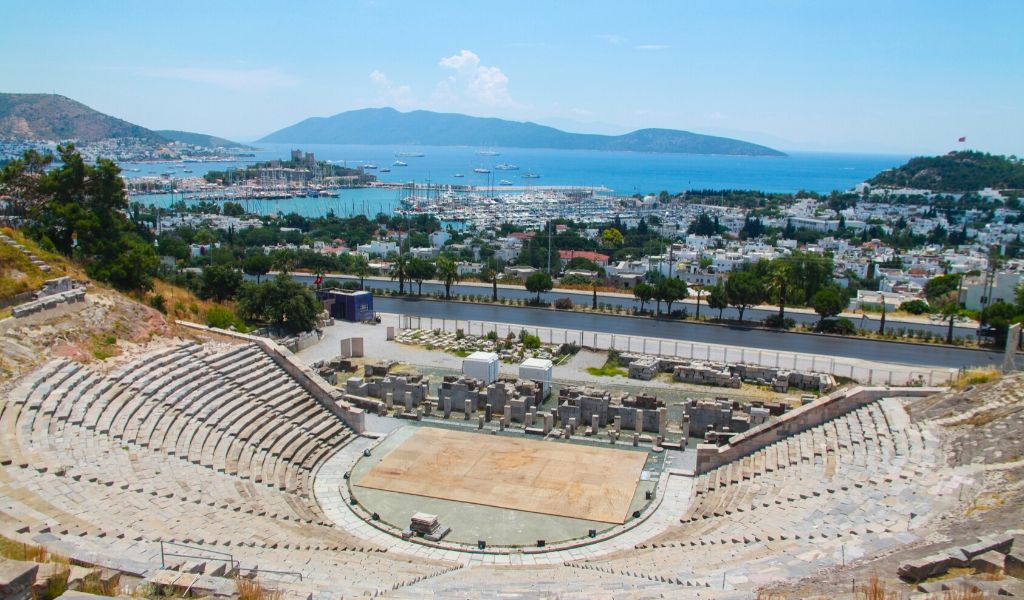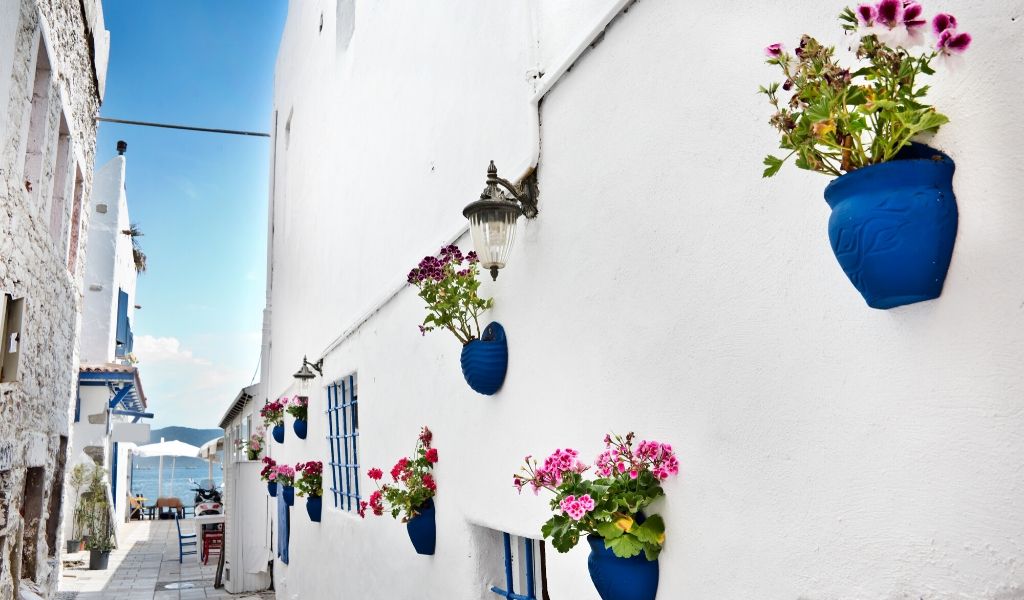 ---
Bodrum Airport Transfers & Weather
Airport: Milas-Bodrum Airport (BJV)
Distance: 35km from Milas-Bodrum Airport to Bodrum Peninsula
SHARED SHUTTLE
You can get a shared shuttle from Milas-Bodrum Airport to your accommodation along the Bodrum Peninsula. This a coach transfer with multiple stops en route to your accommodation. It's the cheapest but slowest option.
SPEEDY SHUTTLE
You also can get a speedy shuttle from Milas-Bodrum Airport to your accommodation along the Bodrum Peninsula. This also a coach transfer but with a maximum of 4-5 stops en route to your accommodation. It costs slightly more than the shared shuttle, but is faster.
PRIVATE TRANSFER
The fastest and most direct option, though slightly more expensive, is a private transfer. This is a private vehicle just for you and the people travelling with you. There are no stops and no waiting at the airport.
Average temperature
| | | | | | | | | | | | | |
| --- | --- | --- | --- | --- | --- | --- | --- | --- | --- | --- | --- | --- |
| | Jan | Feb | Mar | Apr | May | Jun | Jul | Aug | Sep | Oct | Nov | Dec |
| | J | F | M | A | M | J | J | A | S | O | N | D |
| high | 15 | 15 | 17 | 21 | 26 | 30 | 34 | 33 | 31 | 25 | 19 | 16 |
| low | 8 | 8 | 9 | 13 | 16 | 20 | 23 | 22 | 20 | 16 | 12 | 9 |
---
Destinations in Bodrum