An airport that handles over 50 million passengers per year is a busy place and Frankfurt is second only to Heathrow as Europe's largest and busiest access hub.
The centre of Germany's financial and banking interests, the Bundesbank, European Central Bank and one of Europe's largest Stock Exchanges is located here. Germany's transport industry is situated in Frankfurt too, so the city is a huge employer. A jagged toothed skyline is testament to the many skyscrapers the city boasts, but modern architecture apart, the Altstadt (Old Town) is beautifully and sympathetically restored. Well known for large Trade Fairs and international book shows, Frankfurt even hosts a fair to showcase musical instruments.
Located on the river Main, the city is sometimes referred to as Frankfurt-am-Main (to distinguish it from the other Frankfurt in the state of Brandenburg) and has a genuine, real, life-sized forest in the centre of its cemented heart. Highlights of the city include St. Bartholomew's Gothic Cathedral, St. Paul's Church, the Old Opera House and Zeil shopping area.
A city that loaned its name to a humble hotdog, the eponymous frankfurter is a streetside staple and local favourite.
Frankfurt is certainly not a cultural desert either as there are many marvellous museums and galleries and a very vibrant dance music scene is the hottest ticket in town. The home of techno beat, the city is in serious contention with Berlin as Germany's number one cool spot.
A trendy city break choice, don't delay your trip to explore this fascinating German destination.
---
Did you know...?
Frankfurt's Henninger Tower is the highest beer reservoir in the world
During WWII, the zoo animals escaped & wandered the streets
Frankfurt Airport's baggage system is 67km long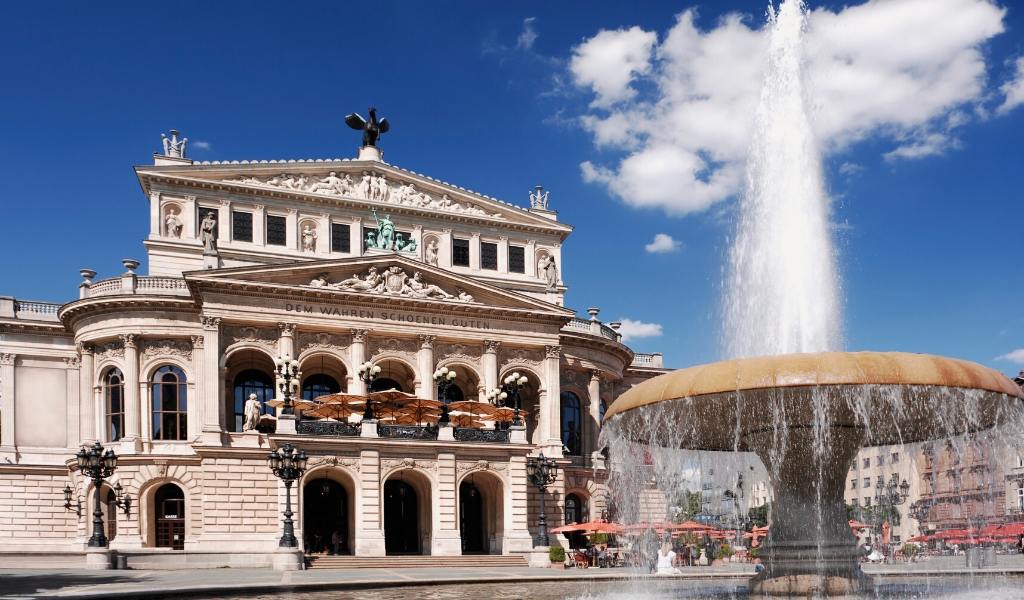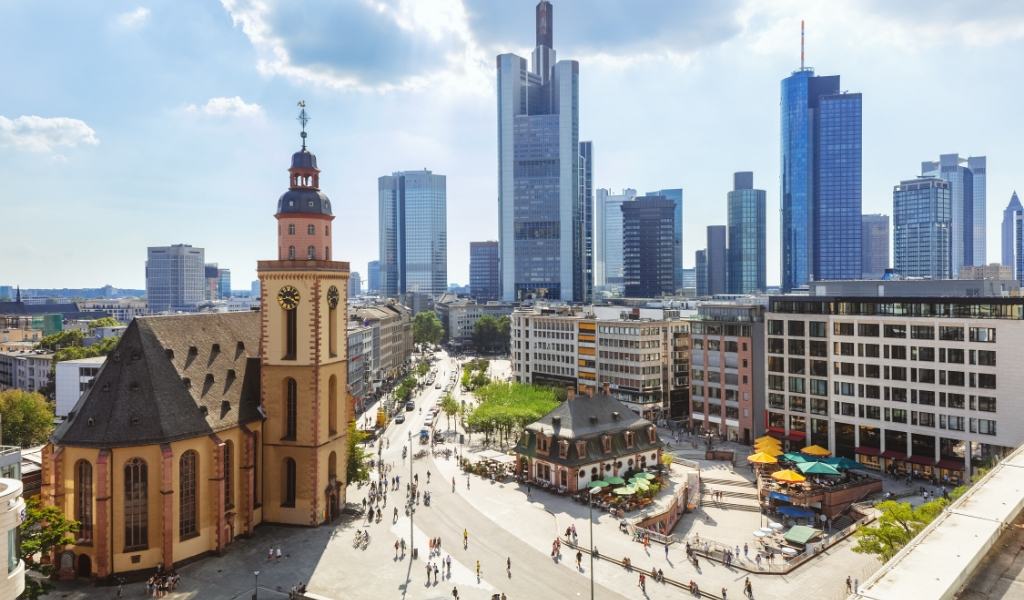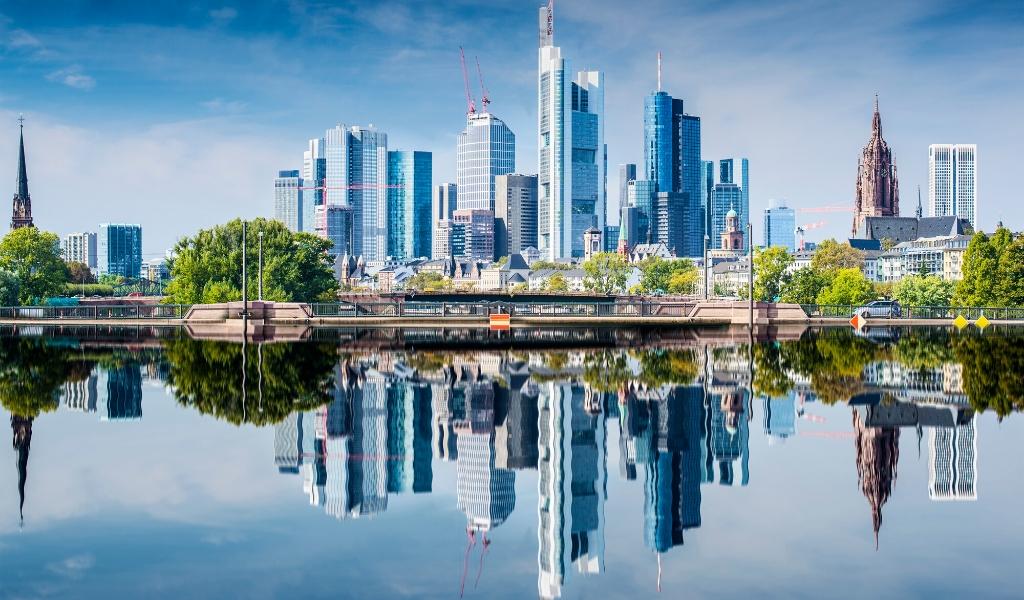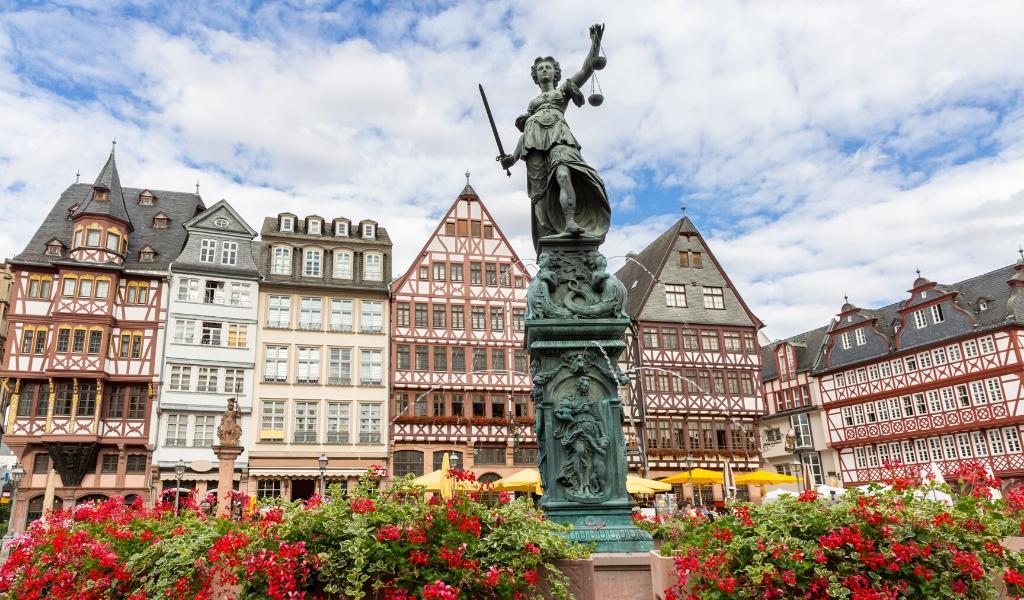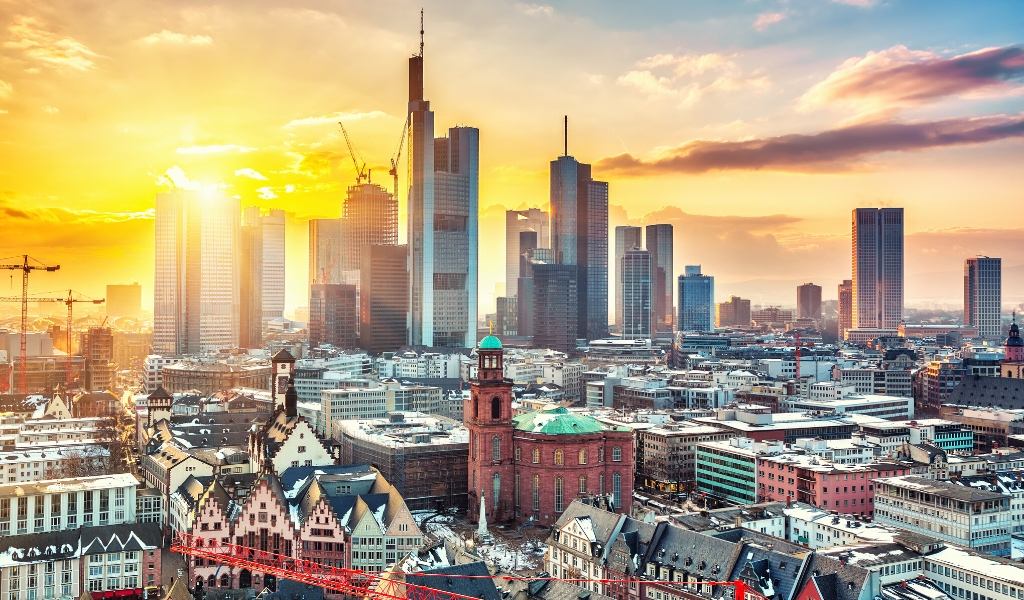 Top Reasons to Visit Frankfurt
---

Its Views & Architecture

---

World Class Museums & Arts

---

The Food & Drink
Climb the Main Tower: It is the 4th tallest skyscraper in Frankfurt and in Germany. The skyline of Frankfurt shines with iconic skyscrapers, in total over 530 high risers. The 2 viewing platforms in the 200m high main tower offer spectacular views of the city.
Old Town Centre: After nearly being destroyed completely in WWII, the Old Town centre has been rebuilt rapidly without much thought put into it. Within the last decades, the houses were reconstructed again, with detail put into historical designs, regaining the charm the city once had.
Bahnhofsviertel: This is the main train station quarter. Known to have a past of drug trade and prostitution, nowadays the Bahnhofsviertel is rather an artistic and hip kind of quarter. With lots of cafes, bars and shops opening up it is another face of Frankfurt that wants to be discovered.
Eisener Steg: With about 1,0000 pedestrians crossing this neo-Gothic style bridge every day, the iron and concrete footbridge is very famous. Connecting the city centre and Römerberg with Sachsenhausen, it's a common spot for photos of the skyline.
World Class Museums & Arts
Museumsufer and Liebighaus: The Museum Embankment is an area in around the Main where 12 museums are situated. Amongst is the beautiful Liebighaus, a 19th century villa exhibiting sculptures. The Museumsuferfest takes place every last weekend of August, bringing later opening hours and entertainment.
Städel Museum: Established in 1815, the Städel Museum covers art from over 700 years of time. Counting over 100,000 pieces of art ranging from paintings, to sculptures and photographs, the gallery's focus varies from Renaissance, Baroque and early modern
Old Opera: First opened 1880, but destroyed in WWII, it was rebuilt and reopened 100 years later. Famous operas were performed there for the first time, such as Carl Off's Carmina Burana. The Opera has a stunning façade and a luxurious interior.
Apple Wine: Handkäs cheese is a Frankfurt delicacy, usually served with an onion sauce and enjoyed with local apple wine. The wine normally has a tart taste to it, therefore often mixed with lemonade. Best enjoyed in a taverns in the Alt-Sachsenhausen district.
Bratwurst at Kleinmarkthalle: A market that offers the best variety of delicious eateries in the city. Amongst almost every dish in Europe being served you'll find Frankfurt's most famous bratwurst sausage, as well as authentic Italian coffee and Parma ham.
---
Frankfurt Airport Transfers & Weather
AIRPORT
Frankfurt am Main Airport
TRAIN
The easiest and most convenient into Frankfurt is the train. You can get it to the Central Station from the train station underneath Terminal 1. It departs every 15mins and takes approx. 15 minutes. It costs €5 per journey.
PRIVATE TRANSFER
You can also get your own private transfer which takes approx. 35mins and costs approx. €45pp return based on 2 people sharing.
* Prices and times for transport from the airport are subject to change
Average temperature
| | | | | | | | | | | | | |
| --- | --- | --- | --- | --- | --- | --- | --- | --- | --- | --- | --- | --- |
| | Jan | Feb | Mar | Apr | May | Jun | Jul | Aug | Sep | Oct | Nov | Dec |
| | J | F | M | A | M | J | J | A | S | O | N | D |
| high | 3 | 6 | 10 | 14 | 19 | 22 | 24 | 24 | 19 | 14 | 7 | 4 |
| low | -2 | -1 | 2 | 4 | 9 | 12 | 13 | 13 | 10 | 6 | 2 | -1 |