Holidays to Agia Marina in Crete including flights and accommodation
Agia Marina on the north coast of Crete is located only 12k west of Chania. A resort that is purpose built for tourism has burgeoned from a tiny hamlet to emerge as a thriving and very busy resort. Holidays in Agia Marina have pretty universal appeal, but couples and singles particularly enjoy the resort. The original village of Agia Marina on the hill still retains its intrinsic "Greekness" with traditional tavernas and kafeneions and is a far cry from the bustling, modern resort below .
Ticking all the boxes for a Greek package holiday, Agia Marina offers oodles of sunshine, plenty of bars, cafes and restaurants and quality hotels with good facilities. Purpose built to cater to foreign visitors hungry for sunshine and warm temperatures, Agia Marina definitely belongs to Crete's 21st century era. If the resort lacks the charm of yesterday in Crete, it compensates by its decent infrastructure.
Skimmed by an extensive sandy beach, there are watersports activities like windsurfing, sailing and pedaloes. Jet skiing and snorkelling are popular here too. Crete's mild Mediterranean climate promises endless summer days where the sun is barely shadowed by the fluff of a cotton white cloud, so beach babes and sun lovers are in heaven. Relaxing and laid back by day, Agia Marina is casual and informal, an ideal destination for banishing the woes of the world and getting some heat into your heart and bones!
Situated only about 10 minutes drive away and serviced by regular local bus, the delightful city of Chania is not only a historical beauty, but a marvellous tourist resort as well. Easy enough to access when the sun goes down, Chania offers more diversity to holidays in Agia Marina if you fancy a bit of sightseeing or lovely souvenir shopping. Further west, take a little trip to the fishing hamlet of Kolimbari with its lovely Monastery. A real plus in any holiday in Greece is exploration outside the tourist areas to see a bit of local life.
Take a holiday to Agia Marina to enjoy an experience of the gorgeous island of Crete. We offer a range of accommodation options in Agia Marina.
---
Holidays in Agia Marina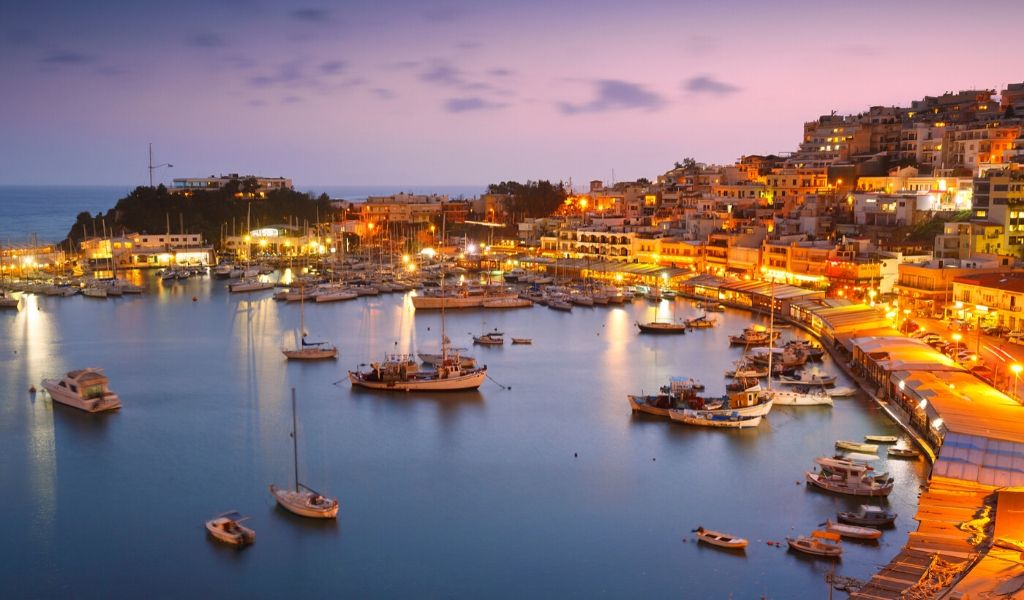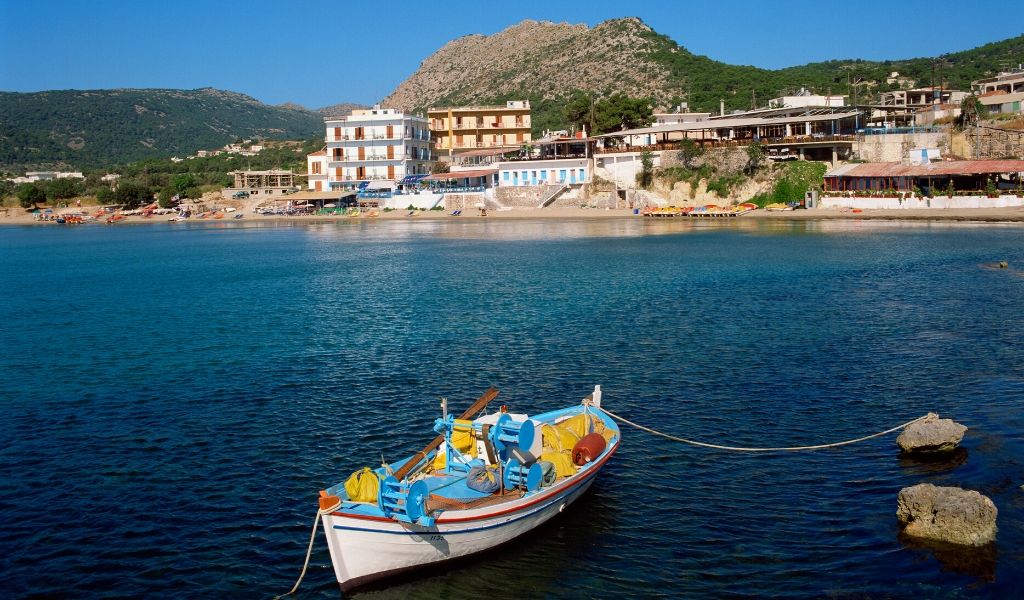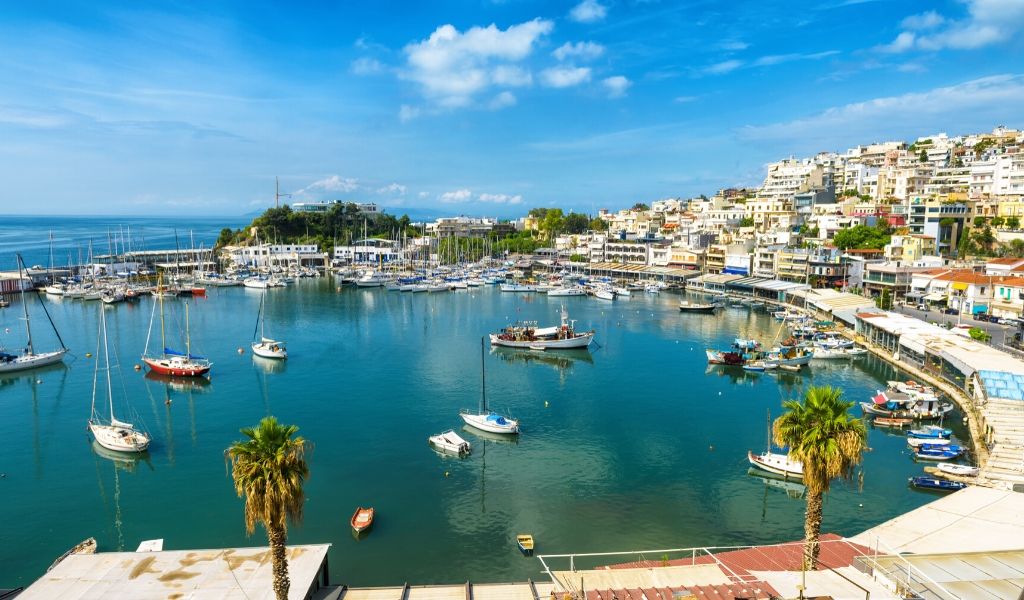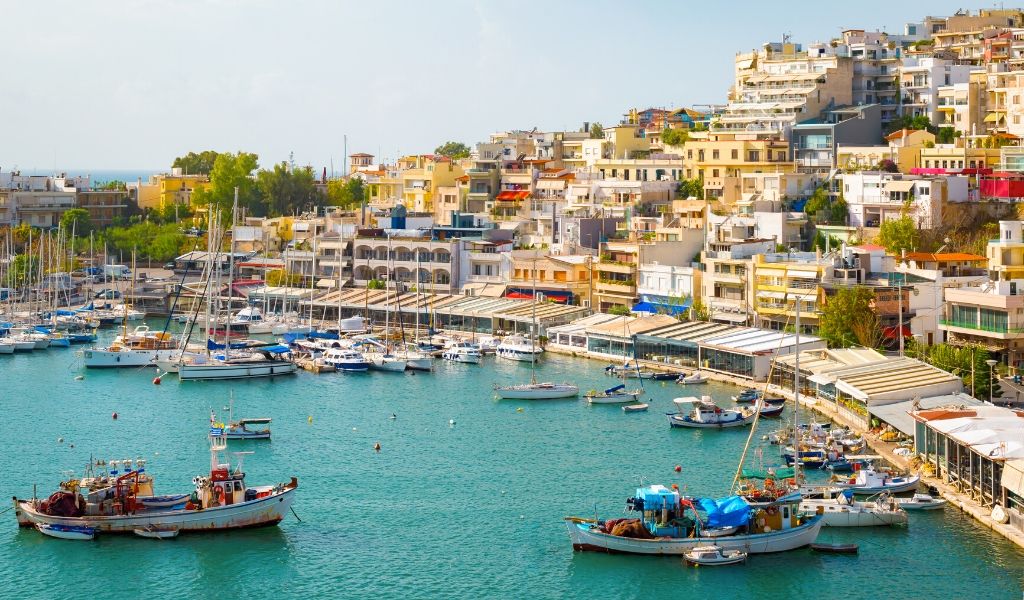 ---
Agia Marina Airport Transfers & Weather
Airport: Chania Aiport (CHQ)
Distance: 23km from Chania Airport to Agia Marina
PRIVATE TRANSFER
The fastest and most direct option, though slightly more expensive, is a private transfer. This is a private vehicle just for you and the people travelling with you. There are no stops and no waiting at the airport.
Average temperature
| | | | | | | | | | | | | |
| --- | --- | --- | --- | --- | --- | --- | --- | --- | --- | --- | --- | --- |
| | Jan | Feb | Mar | Apr | May | Jun | Jul | Aug | Sep | Oct | Nov | Dec |
| | J | F | M | A | M | J | J | A | S | O | N | D |
| high | 14 | 15 | 17 | 20 | 24 | 29 | 30 | 30 | 27 | 23 | 20 | 16 |
| low | 8 | 8 | 9 | 11 | 14 | 18 | 21 | 20 | 18 | 15 | 12 | 9 |